The Luxury Querosene House in São Paulo, Brazil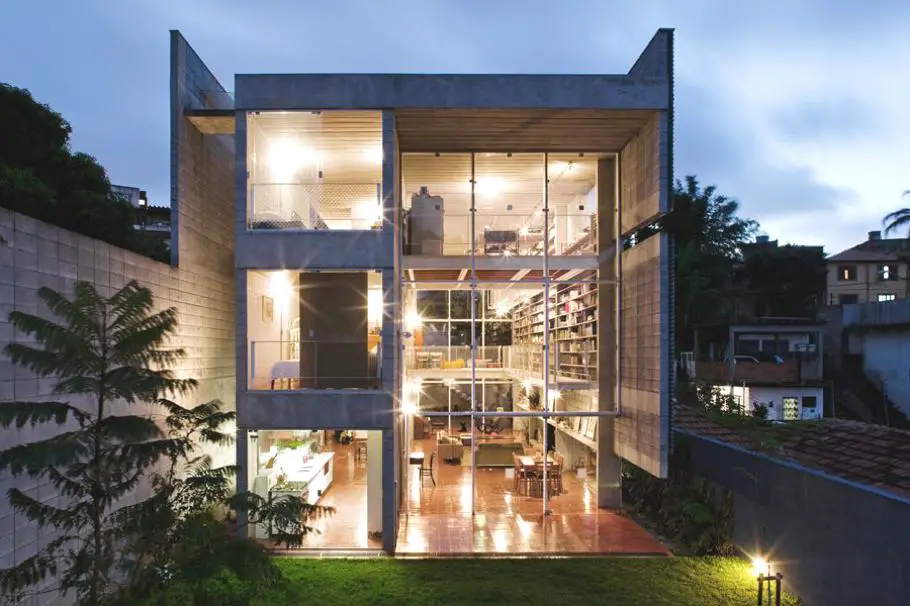 This extraordinary three-storey home has been designed by Brazilian architects grupoSP.  A large section of the house lays three metres below street level.  The design takes advantage of the difference between the street level and the lower level of the plot, by positioning the living room in the lower level ensures that privacy concerns are reduced.

The large open living space adopts simple constructive solutions and gives the place an ultra modern feel. You could be forgiven for thinking you're sat in some cool bookshop or café.  The open space is great when you are entertaining guests or planning a party.
A free wall houses a library holding more than 7,500 books, which gives this industrial chic house an intelligent but sophisticated feel. To access the wall of books raised metal areas have been connected to the service block in an interleaved fashion. On the opposite side you can find a parallel block, an all closed space – a block with three stories that contain the bedrooms, bathrooms and kitchen.
Entrance to the closed side of the house is via concrete stairs, which have been positioned to the south of the bathroom. The monolithic concrete flooring and Portuguese white stone keep the interior design contemporary and simple but most importantly they keep the interior cool in the hot Brazilian summer months.
The wooden shelves, metal platforms and concrete staircase give a sense of industrial chic but that cosy and homely feeling to the place.
Images courtesy of Nelson Kon
Love Interior Design & Exotic Travel? Follow us..
July 20, 2011 | Property | View comments