The luxurious Kempinski Palace Portoroz, Slovenia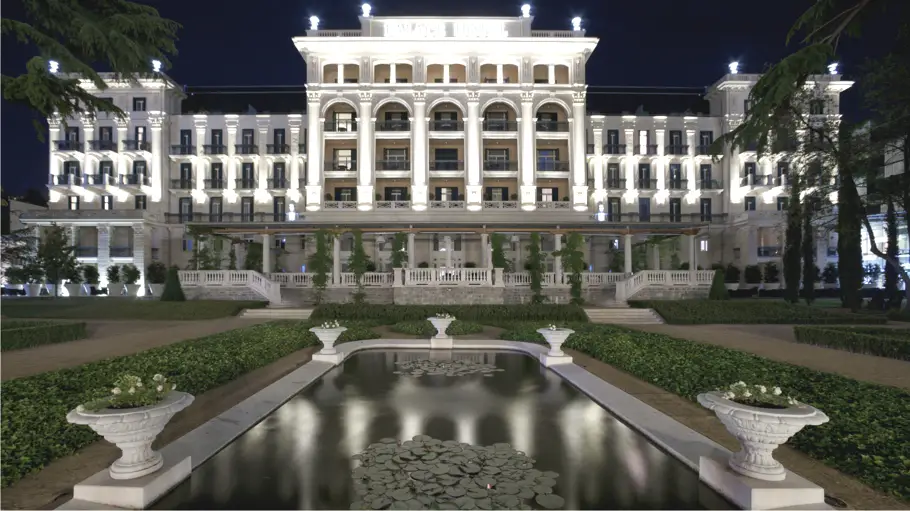 Kempinski Palace Portoroz is probably the best kept secret between Venice and Dubrovnik. The luxury hotel offers a chance to host meetings, events, receptions or Gala dinners and Balls in the most luxurious setting.
The luxury Slovenian hotel offers fabulous views of the Adriatic Sea and Istrian countryside. This is the world of the Venetian Republic and of the Viennese Hapsburg.
Portorož – the 'Port of Roses' – has been attracting people throughout the ages thanks to its therapeutic baths and spas. In the 13th-century, the Benedictine monks treated their visitors with seawater and salts. In the 19th-century, the cream of European society came to 'take the waters.' And the hotels' rooms and suites recall this fabled history.
When you just want to get away from it all, the rooms at the luxury hotel offer a welcome escape – you can switch off because you know that hotel is switched on to answer your every beck and call.
The secret of the good life is not something that you want to reveal to anybody but your closest friends. Unlock the door to a suite at the luxury Slovenian hotel and you can add to your store of secrets. The view is not there to take your breath away – it is there to revive you; there is nothing unbelievable about the finest materials the hotels designers have searched forhigh and low – all you need to do is feel them.
Slovenia shares its borders with Austria, Hungary, Croatia, Italy and the Adriatic Sea. This is possibly why the hotel has have always had an international outlook on everything, and especially on its cooking; at the Kempinski Palace Portorož their executive chef brings together a fabulous melting pot of influences and recreates them into his own masterpieces.
Since the 13th-century, Portorož has been attracting visitors in search of its therapeutic sea-salts and mud baths. At the luxury Slovenian hotel, you are offered the very best of the famous local treatments and complement them with an array of other methods from around the world.
Kempinski Palace Portorož, Obala 45, 6320 Portorož, Slovenia, kempinski.com/portoroz
Love Interior Design & Exotic Travel? Follow us..
January 25, 2013 | Portoroz Slovenia Travel | View comments