Sustainable design for BHP Billiton fit out, Perth
Victoria-based consulting engineers, Norman Disney & Young (NDY), have provided building services for the fit out of the Brookfield Place project. Completed in 2013, the eco-chic tower home to PWC and Barrick Gold can be found in Perth, Australia.
Brookfield Place is 234 metres tall and as the lead tenant, BHP Billiton occupies 34 of the 45 floors. The building was built by Brookfield Multiplex and construction began in August 2008.
The building was awarded six Star Green Star interiors rating and is one of the very few buildings to achieve such a rating for a project of this scale in Australia.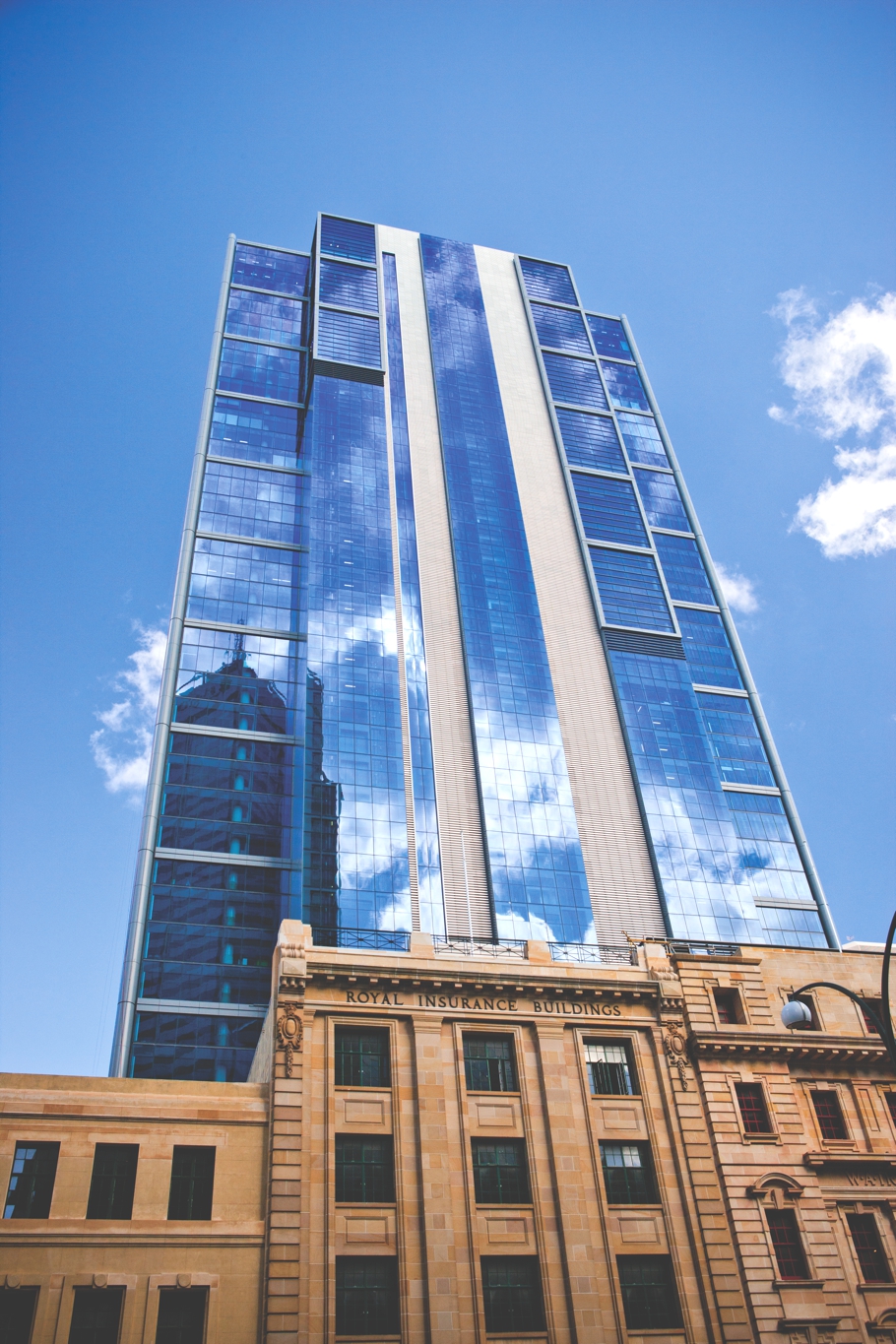 The lifts in the building travel eight metres per second and get from ground level to level 45, a distance of more than 200 metres, in just 30 seconds. Three of the lifts are glass and face north offering fabulous views of Perth.
Already established as an iconic landmark on the Perth skyline, the 45-level Brookfield Place development  boasts some clever design elements.
The tower is the tallest side core building in the southern hemisphere – this design offsets the large concrete core to the north of the project and in effect provides an enormous concrete heat shield, leading to strong passive ESD credentials.
As the BHP Billiton fit out of 60,000 sqm was fully integrated in to the base building works, this greatly contributed to ESD and green star by minimising waste and maximising efficiencies. The building design, construction and fitout is built upon the strong foundations of indoor environment quality, occupant amenity and operational efficiency. The building's design features support worker productivity, occupant health and energy and water efficiency across the building's 45 levels of office space and ensure that Brookfield Place is a towering example of sustainability in action for the local community.
Also adding to the sustainability pedigree of Brookfield Place is the restoration of the neighbouring heritage buildings.
Tony Arnel, global director of sustainability, Norman Disney & Young and GBCA, said: "In my 11 years of experience as a founding director of the GBCA, I can say that very few projects have achieved the sustainability outcomes of the BHP Billiton Perth fit out.
"One of the most impressive features has been the number of innovation points achieved during the Green Star certification process – a much higher number when compared to other projects in the six Star category."
Love Interior Design & Exotic Travel? Follow us..
October 19, 2013 | Property | View comments