Supernova – contemporary conference room design, Utrecht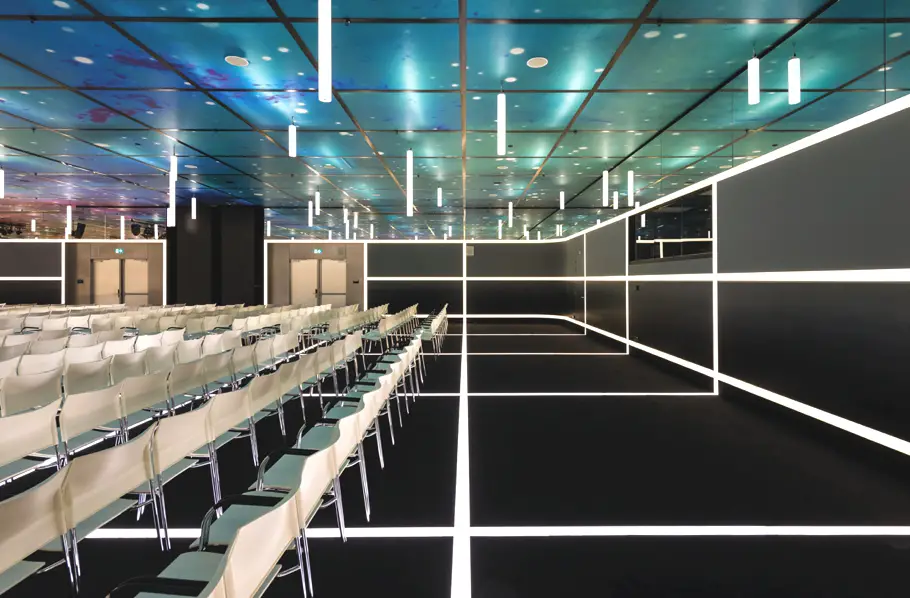 Rotterdam-based architectural practice, Liong Lie Architects, has designed the Supernova project. Completed in 2013, the conference centre is the largest fair and conference centre in The Netherlands.
The 3,500 m2 area includes a foyer and four meeting rooms – one for 454 persons, two meeting rooms for 80 persons each and one meeting room for 460 persons, which can be divided into two smaller rooms. This area will also be the connection between other buildings such as the existing conference center Mediaplaza and a future cinema.
According to the designers: "Four congress halls with striking and unique designs lead the way to new insights and the discovery of new worlds. Visitors will be welcomed in the TransitZone, a modern and atmospheric place.
"The meeting rooms are designed as space capsules. Each of the three capsules feel like you are entering a different world. Therefore every capsule is designed as a different object in shape and material. What unites them is that they suggest action, tension, flow.
"The congress halls Mission, Quest, Expedition and Progress are perfectly combinable. The design of the halls is sophisticated and the halls are flexible in use and arrangement.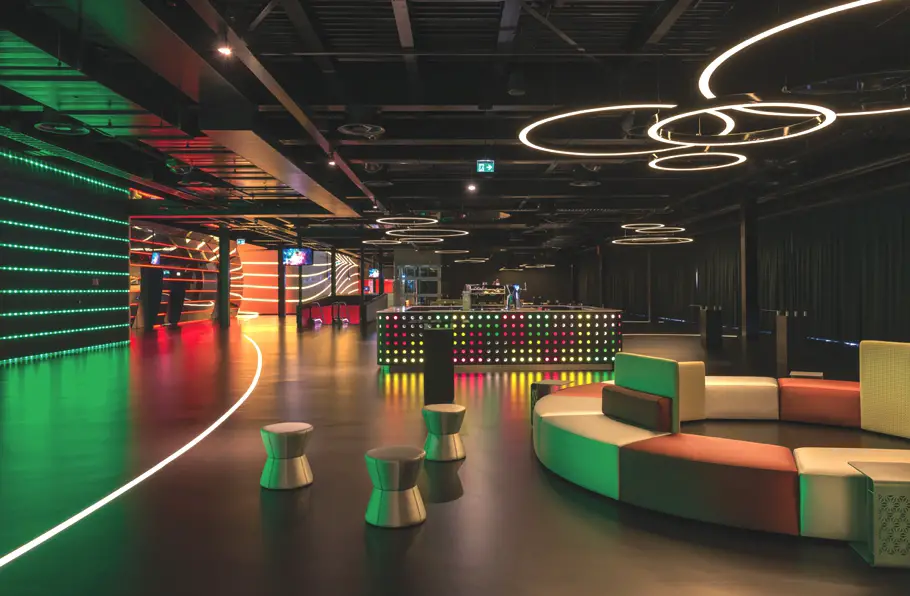 "Furthermore, all halls are outfitted with the most modern high tech equipment. The right combination of all these elements enables the guests to look forward and to absorb other insights. They will meet other people and will focus on the future.
"The ceiling of Progress looks a bit like a spaceship. Distinctive and unusual. The lines of this special form are directed to the front of the room: the central point where knowledge is shared and panorama views become new insights. The outside is designed as a black box. It is cladded with carbon fiber strips and green led light strips.
"Inside the walls are cladded with grey fabric and gray perforated aluminum panels (for air flow). A lower echo than usually found in conference rooms of similar size creates a more intimate experience in a wide open space. The ceiling is designed as a 350 m2 UFO seen from below. It is cladded with silver colored aluminum metal panels.
"The TransitZone provides warm welcome interior design. The TransitZone is like the departure lounge area of an airport. From here you can enter the various different hall.
"The TransitZone is designed as a dark room isolated from the outside world. 2,300 m2 Black and darkness is used to forget were you came from. Black rubber is used for the floor. A black curtain wall is used for the walls. In the ceiling all the installations such as ducts, fans sprinklers are visible and painted black.
Long Lie, architect, said to Adelto: "What stands out most in the project is that we created a unique world that is different from anything we have seen before. It is not just a building, it's an experience."
Images courtesy of Christiaan de Bruijne
Love Interior Design & Exotic Travel? Follow us..
January 21, 2014 | Property | View comments