Stylish London apartment for sale with modern art
Luxurious, sophisticated and elegant is how we would describe this lateral apartment for sale in Albert Court, Knightsbridge, London.
The magnificent red brick land-mark Grade II listed mansion block opposite the Royal Albert Hall and Hyde Park is for sale through UK Sotheby's International Realty. The luxury home includes several contemporary art works which are integral to the interior design of the apartment, in fact one was especially commissioned for the apartment.
The grandeur of Albert Hall Mansions is enhanced by the building's famous long entrance hall carpeted in sumptuous red which sets the tone of the building. This is where the 24 hour concierge is located from where CCTV and front door security is monitors to ensure residents have the highest standards of care and attention.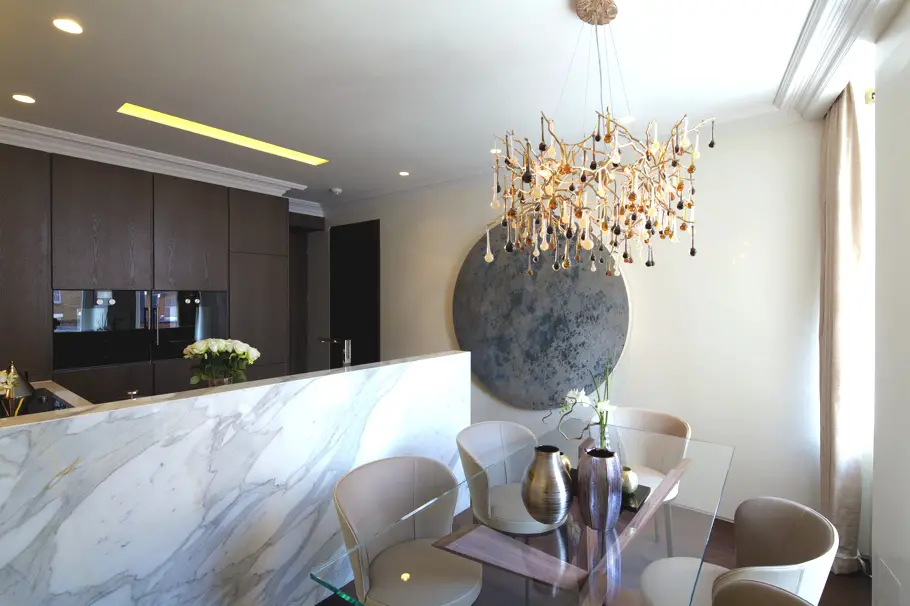 This luxury apartment is strikingly contemporary and has been intricately designed with many bespoke elements such as the kitchen, ironmongery and study area. A rich palate of the most luxurious natural materials have been used such as marble, Koto Tabu Timber veneered wood and Italian suede and the latest technology installed, including iPad controllable lights, curtains, music and televisions, a BPT iPad/iPhone wifi enabled video door entry system with record function and an alarm system with motion sensors.
Contemporary art lies at the heart of the interior design of the apartment and is for sale with the property. Each piece has been bought or commissioned specifically for it, completing the luxurious feel of this turn-key apartment. Conor Harington's 'Fight Club' on gold leaf linen is hung in the entrance hall creating a vibrant atmosphere, the bespoke high tempered non linear blown glass chandeliers are a feature of both the dining and reception room, a beautiful acid treated copper metal wall in the kitchen as is a subtler and calming mood enhancing planetary inspired installation by Purdey Fitzherbert. In the reception a specially commissioned abstract pair of paintings by Barry Reigate and expressionist Bogdan Vladuta stand in direct juxtaposition with the crushed glass infused bar area and chandelier.
To buy this property or for further information, visit sothebysrealty.co.uk
Love Interior Design & Exotic Travel? Follow us..
September 29, 2014 | Property | View comments