Stylish CT House by Bernardes + Jacobsen Arquitetura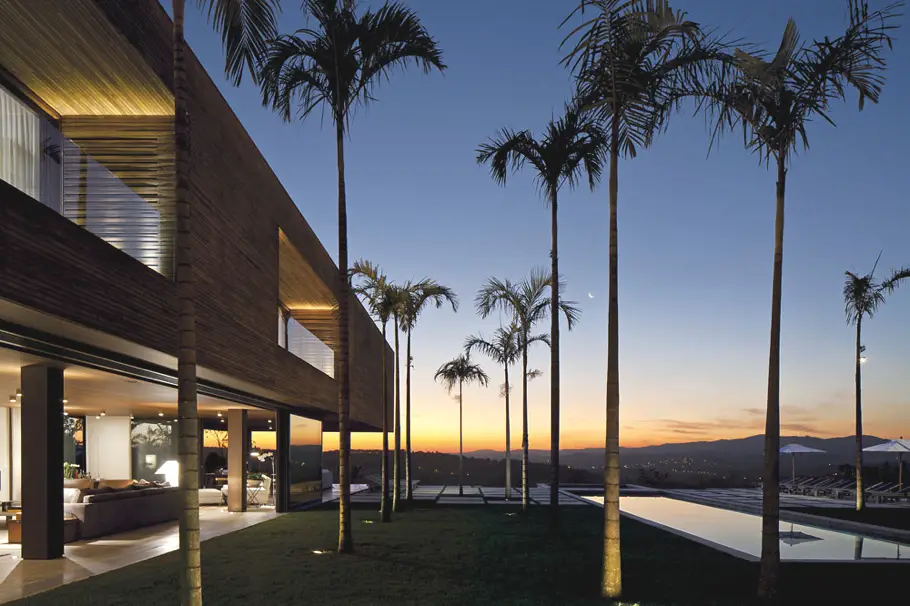 Rio de Janeiro and São Paulo-based architectural practice, Bernardes + Jacobsen Arquitetura, has designed the CT House project. The stylish family home is located in São Paulo, Brazil.
This luxury home, which is located an hour and a half from the city of São Paulo is currently used as a holiday home by its owner.
According to the architect: "The deployment of the house is made up by distinct and perpendicular volumes, which envisioned the organisation of spaces and function creating two plateaus, one for access and the other for leisure.
"The highest level, the access plateau, is occupied by the home keepers' area, garage and service area on the volume parallel to the street. Camouflaged by a stone wall this deployment allows the intimate area to be located away from the street access, providing total privacy to residences.
"The access to the main construction is through a large patio and stands out in the landscape. Perpendicular to the street, the main construction is leaning against the lateral setback and holds an intimate area. This large parallelepiped has its sides and bottom faces covered in grey tropical wood. The bedrooms verandas were created from the subtraction of this volume, and face north.
"From room level access, a staircase is located in the middle of the garden that provides highpoint lighting and gives access to the below floor, which leads directly to the living areas located below the wooden volume. This space was treated in the most see-through manner, simulating a piloti in the main block, emphasising the bedrooms wooden volume even more and integrating with the outside leisure level, where the pool is located.
"Also the perpendicular volume is fully integrated with the external areas, camouflaged by grassy slabs and organises the rest of the interior design programme: verandas, locker rooms, sauna as well as the kitchen area, technical areas and guest bedrooms. Therefore the deployment of the same house is formed by two distinct volumes emphasising the property's landscape through a single rectangular volume, facing the beautiful surrounding view and fully integrated in it."
Images courtesy of Leonardo Finotti
Love Interior Design & Exotic Travel? Follow us..
February 22, 2014 | Property | View comments