Spectacular Modern Luxury Residence in Hawaii by Arri Lecron Architects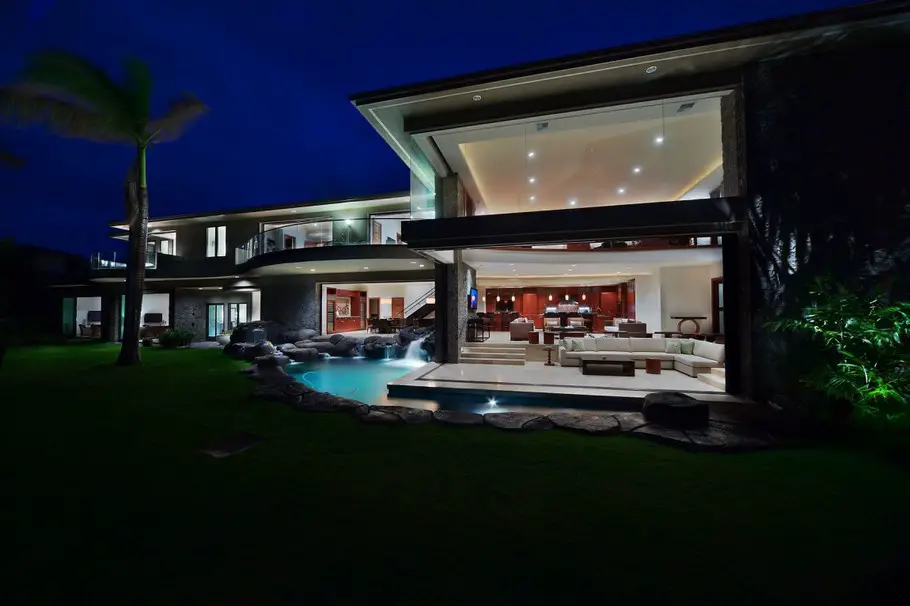 This tremendous, picturesque luxury coastline estate resides on the Island of Maui, Hawaii. Aptly named the Jewel of Kahana, Arri Lecron Architects have developed this stunning home, and with a price of $14.9 million, it is certainly the best that money can buy, and is worth every penny.
Stretching over a vast area of 9,200 square feet, the possibilities are literally limitless with this glorious residence. Including seven luxurious en-suite bedrooms and even a stunning guest home with one bedroom and one bathroom, the Jewel of Kahana is perfect for any client; families or otherwise. The stunning modern spa, sports bar and three-car garage simply stretch the imagination as to what the perfect home actually is, with the audience settling with the Jewel of Kahana as the jewel of their eye.
The beautiful contemporary outside spa and waterfall allow spectacular panoramic views in combination with tranquility, serenity and an air of calm. The interior is designed so as to intertwine with this area, thereby allowing natural light to bounce through this already tremendous home in its open-plan glory. The gorgeous, bright living and dining area ensemble comprises attractive, comfortable and modern furnishings, efficient, state-of-the-art fittings, and a luxurious living experience that is certainly amongst the highest echelon of architecture available.
With gorgeous natural surroundings of a sandy, divine beach and quaint palm trees set against a stunning backdrop of a bright blue sky, the Jewel of Kahana is a spectacular modern Eden.
Love Interior Design & Exotic Travel? Follow us..
January 11, 2012 | Property | View comments