Striking House by David Jameson Architect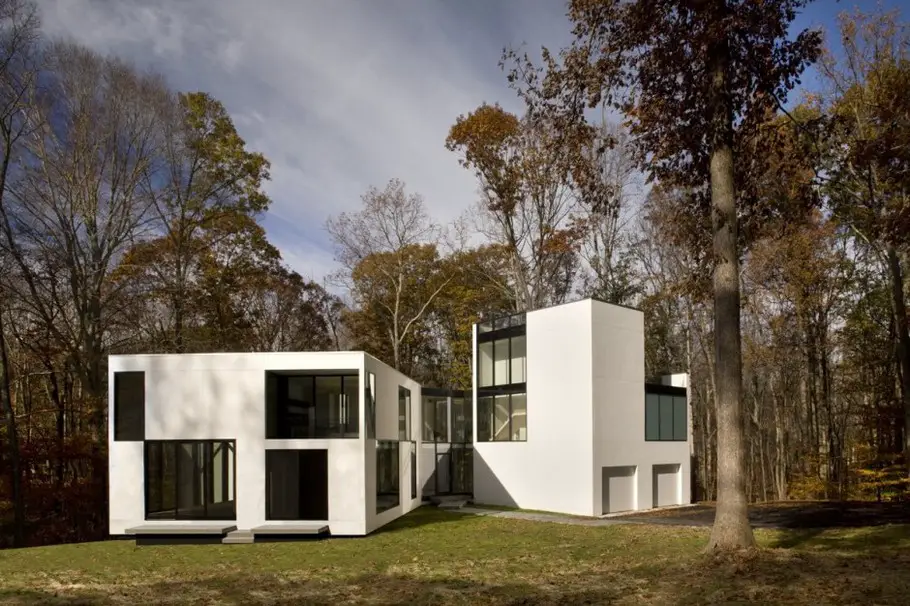 Architect David Jameson have designed and completed the Graticule House in Great Falls, Virginia. The house draws heavily on a juxtaposition of bright and dark colours to evoke emotion and become effective in terms of remaining in the mind of the audience.
Situated on a hillside site, the Graticule House is surrounded by glorious nature; another of its unique attractions. Trees encase the house, ensuring that light does not overpower the home but just seeps through, providing enough natural light in the daytime for the house to become self-sufficient. The architect has employed the modern technique of
varying the shapes and sizes of not only the buildings themselves, but the saturation of windows on them. This allows the house to stand out as a striking piece of beautiful, modern and luxurious architecture.
Inside, the architect promotes a spacious, luxurious, modern and sleek living atmosphere. The aforementioned heavy saturation of windows is an effective technique, providing sufficient natural light and beautiful panoramic views of the surroundings. The high-reaching ceilings enhance a feeling of vast space, ensuring that the client feels
relaxed and welcomed. The sleek, elegant and understated nature of the interior is a delightful twist on modern architecture, as the architect provides everything that a house needs and nothing more. This is done to avoid over-complicating the home and taking away from its natural beauty.
Love Interior Design & Exotic Travel? Follow us..
December 8, 2011 | Property | View comments