Sophisticated and Luxurious Residence by Wright Feldhusen Architects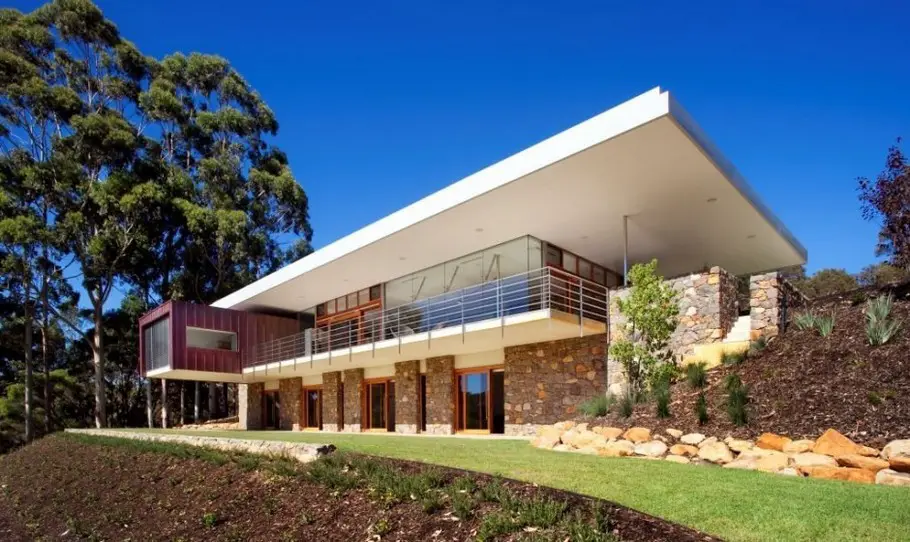 The vast and beautiful Yallingup Residence has been completed by Wright Feldhusen Architects in Western Australia.
The site is a rural location with spectacular valley views to the east, enhancing the living experience for the client with gorgeous panoramic views of the striking Australian surroundings. The architect has combined this with a stunning, bright, spacious and natural home to exciting and impressive effect. Attractive wildlife surrounds the home, while the vast garden area really appeals to any kind of client, maximising the possibilities
for relaxation or leisure. The most modern and potentially most striking aspect of the exterior however, is the seamless blend of the various stones, chosen from a refined palette by the architect.
Perhaps the most modern, striking aspect of the exterior, however, is the cantilevered façade of the red box on the first floor. This combines well with the sophisticated edge of the house as it offers a unique, modern and compelling characteristic.
Inside, the architect promotes a sleek, comfortable and relaxing atmosphere with modern furnishings. The open plan main living area and dining area/kitchen is an extremely effective contemporary technique, opening up the home and maximising both the spaciousness and the welcoming, homely feel that the home exudes. A unique aspect is also provided with the exposed brick walls inside, which is an attractive feature. This, all combined with the gorgeous views from the first floor, really emphasise luxurious living.
Love Interior Design & Exotic Travel? Follow us..
December 8, 2011 | Property | View comments