Renovation of a contemporary apartment in Barcelona
Madrid-based interior designers and architects, Isabel Lopez Vilalta + Asociados, have designed the Sarrià project. Completed in 2013, the ground floor apartment is located in the neighbourhood of Sarrià, in Barcelona, Spain.
The contemporary apartment is located in a building between party walls from the beginnings of the century. There is a courtyard inside the south-west facing block. According to the designer it was in a bad state of repair with a dam problem, a poor state of sanitation and infested with termites.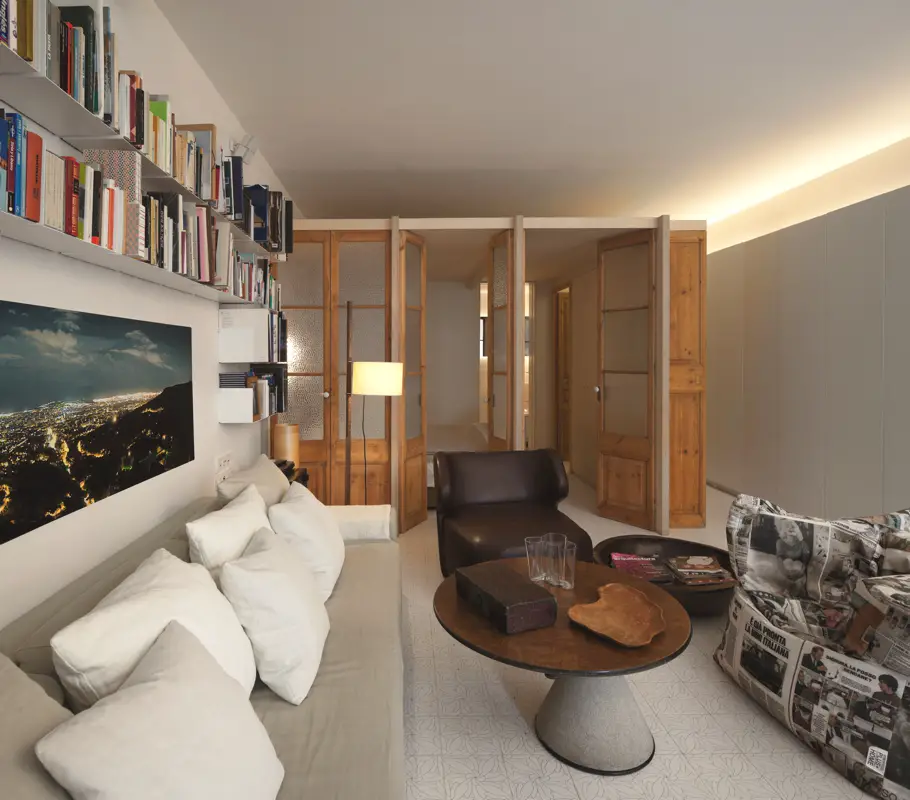 According to the designer: "The aim of the interior design renovation project was to improve a clearly deficient and unbalanced distribution, in addition to improving the apartment's condition, distribution of natural light and heat. Part of the perimeter has been dry lined and ventilated, and a piece of sanitary wrought iron covers the entire surface.
"The new interior layout places the common spaces near the courtyard, opening itself up to its entire width while searching for a relationship with the exterior. There is, to one side of the dwelling, a series of items of furniture, where the kitchen can also be found.
"The rehabilitation is respectful of the value of the building, its memory and the traces of its past. The main room is a box introduced into the renovated space formed by doors recovered from the dwelling. All the materials used were simple, without pretension and treated with their natural appearance. Three types of finish have been used: a shiny one in closets and kitchen, a matte one on the floor and the other is warm from re-used wood.
"The dwelling has been treated like a machine by the installation of a home automation system that controls energy expenditure. Whether the blinds are open or closed depends on solar incidence, which generates cross-ventilation when there is an increase of temperature. Underfloor heating, powered by an aero-thermic machine, controls the temperature.
The integration of the electric and audiovisual installation takes advantage of the home automation system."
Images courtesy of Alejo Bagué
Love Interior Design & Exotic Travel? Follow us..
March 6, 2014 | Property | View comments