Rechter House by Pitsou Kedem Architects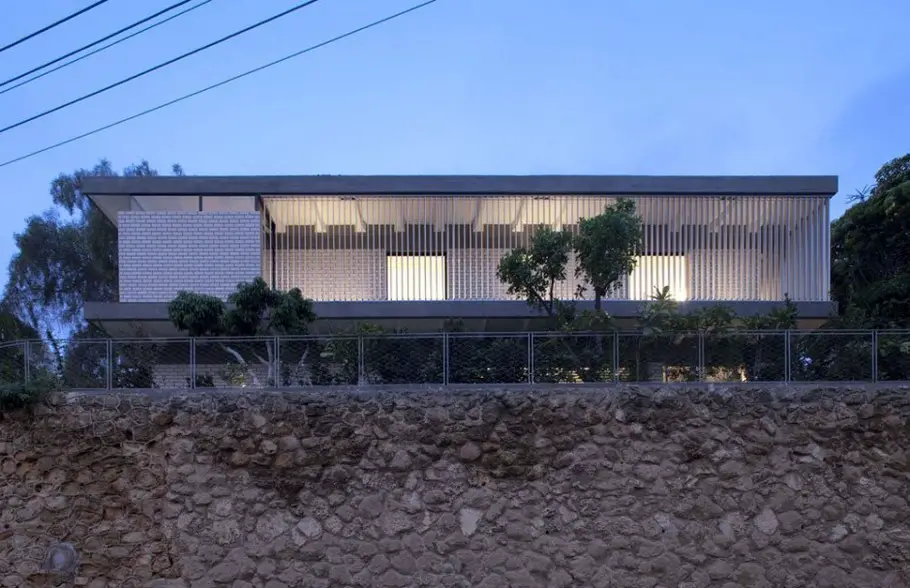 Pitsou Kedem Architects designed a renovation of a neglected home transformed into a family-friendly haven; the Rechter House in Tel Aviv, Israel.
The "Rechter House" in Tel Aviv was originally designed by Zeev Rechter as a single storey home for his family; an efficient, comfortable, spacious and homely residence which allowed for privacy when required and togetherness when desired. The original house however began to lose its modern touch and was on the verge of abandonment, until Pitsou Kedem Architects rescued the building. The family that purchased the neglected building simply sought after a united home with a fully integrated living unit and closely-knitted rooms.
The exterior of the house is impressive, with a splash of white and grey surrounded by wildlife; luxury in its own right. The top level bars allow light to creep in, admonishing the need for artificial light and allowing the house to come alive in the daytime.
The interior of the house is the focal point however, with beautiful, sleek finishes and modern, comfortable furnishings. Complete with a cascade of white and brown colour, the shine from the outside bounces throughout the unified and renovated residence, extrapolating a sense of calmand harmony for a family.
Love Interior Design & Exotic Travel? Follow us..
October 13, 2011 | Property | View comments