Rambla House: Luxury holiday home with views of the Pacific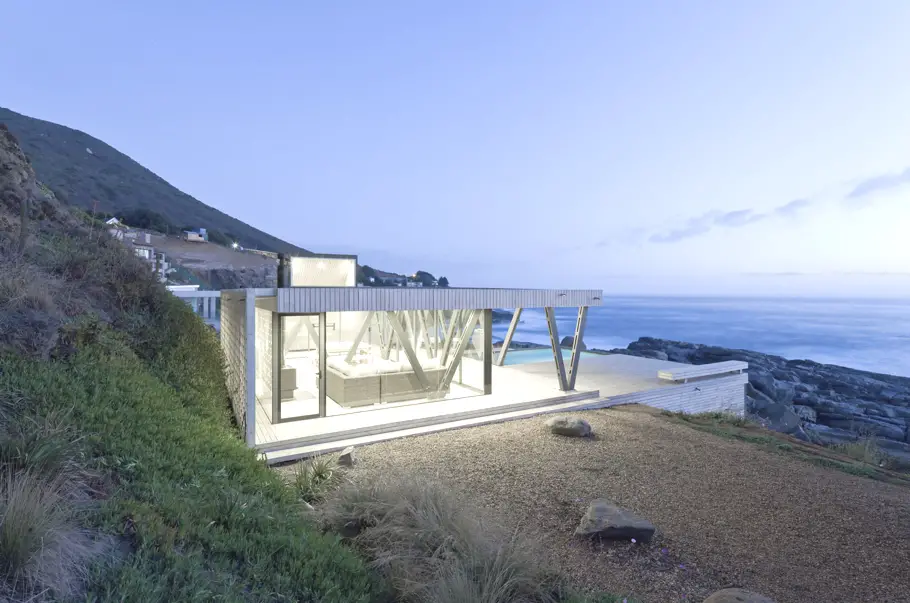 Santiago-based architectural practice, Land Arquitectos, has designed the Ramble House. Completed in 2012, the luxury family home is located in Zapallar, Valparaíso, Chile and covers an area of 1,323 square feet. 
Rambla House is a contemporary weekend home located along the central coast of Chile, at Zapallar City, about 175 km (109 mi) from Santiago City. The site is next to the coastal pedestrian promenade linking the Zapallar downtown area with the Zapallar Cemetery, with a privileged view of the Pacific Ocean.
According to the architects: "The Rambla's interior spaces were designed so that there is continuity and a direct connection between indoor and outdoors spaces, while protecting the main spaces from harsh local coastal climate, characterised by strong south winds and excessive sun exposure from the west.
"The barbecue space ceiling opens up with a skylight to vent fumes and to capture the northern light into the interior spaces.
"The luxury house is constructed on concrete beams providing ventilation of the structure to prevent that humidity is transmitted into the interior spaces, a common problem in this coastal area. Over the beams timber volumes where built using pine columns in V shape for structuring. All woods were treated with a white colored product for protection from marine influence and increasing brightness and contrast with the surrounding landscape."
Images courtesy of the architects
Love Interior Design & Exotic Travel? Follow us..
December 29, 2014 | Property | View comments