PRT House by Vanguarda Architects, Buenos Aires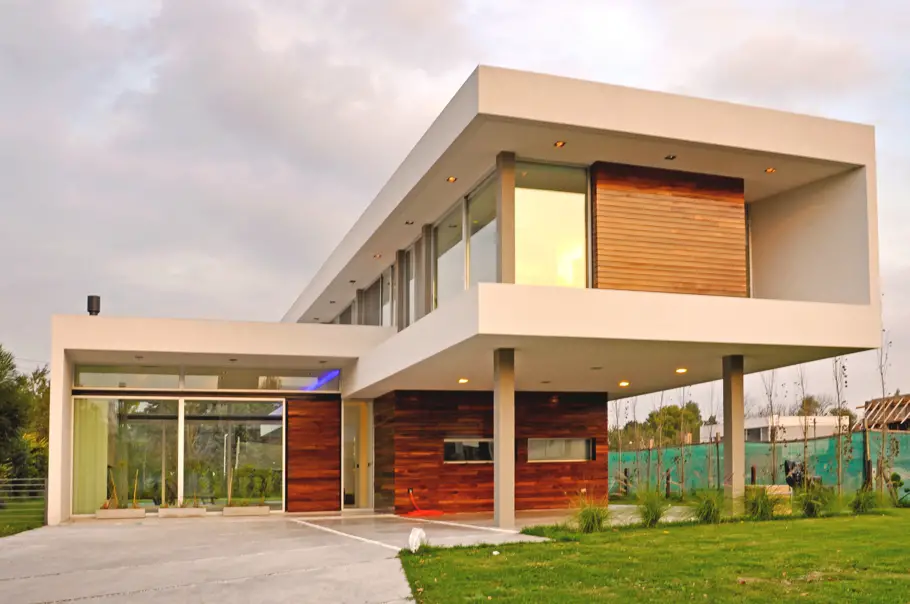 New York and Buenos Aires-based international architectural practice, Vanguarda  Architects, has designed the PRT House project. Completed in 2014, the modern home is located in Altos del Sol Gated Neighbourhood, Ituzaingo, Buenos Aires, Argentina.
According to the architects, Vanguarda  Architects: "The PRT house is organised by aligning the functional rooms on the upper floor on a perpendicular axis to the lot's front; on one of its sides, searching for the eastern sun for the bedrooms in this area, it includes: two children's bedrooms to the front, with bathroom, a private sitting room to the center, together with the staircase and the master suite with bathroom and walk-in closet to the back.
"The volume generated by the upper floor floats over the front, creating the garages and over the rear façade, creating the gallery. In the center, it is supported by the service areas. The sitting room, of a one and half height, is located on the other side, with views to the front and to the back, integrating the kitchen and the dining room. For the pool, we selected a location that privileges its sights from the interior of the house. Surrounded by the social areas, its presence is enjoyed from the moment one enters the modern house.
"The black aluminum openings highlight the white stripes that envelop the different areas and are complemented by horizontal wooden and stone panels."
Images courtesy of the architects
Love Interior Design & Exotic Travel? Follow us..
February 17, 2015 | Property | View comments