Off-grid It House by Taalman Koch, California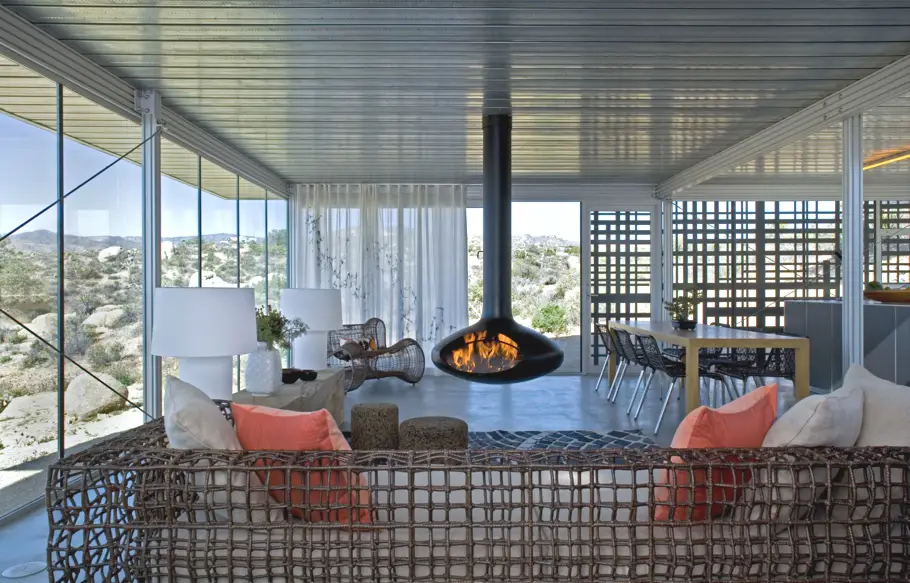 Los Angeles-based architectural practice, Tallman Koch. has designed the Ofd-grid It House project. The luxury holiday home is located in Pioneertown, California, US.
This stylish two-bedroom, one-bathroom home is surrounded by a vast rocky landscape and was originally designed in 2007.
According to the architects: "The itHouse is a design system developed by Taalman Koch that utilises a series of components prefabricated off-site to better control the construction waste, labor, and quality of the finished product. Conceived as a small house with glass walls and open floor plan, the itHouse maximises the relationship of the occupant to the surrounding landscape while minimizing the building's impact on delicate site conditions.
"Energy efficiency is achieved in the contemporary Californian home through passive heating and cooling, utilizing site orientation and cross ventilation, radiant floor heating, hi-efficacy appliances and equipment and the use of solar photovoltaic & thermal panels.
"To further enhance the experience of living in a glass house, a graphic design is mapped to discreet areas of the glass walls, creating framed views, sun-shading screen patterns and privacy zones. Artists Sarah Morris and Liam Gillick custom designed the graphic outfit for the off-grid itHouse."
Images courtesy of the architects
Love Interior Design & Exotic Travel? Follow us..
February 18, 2015 | Property | View comments