Oblio House in New Mexico by Edward Fitzgerald Architects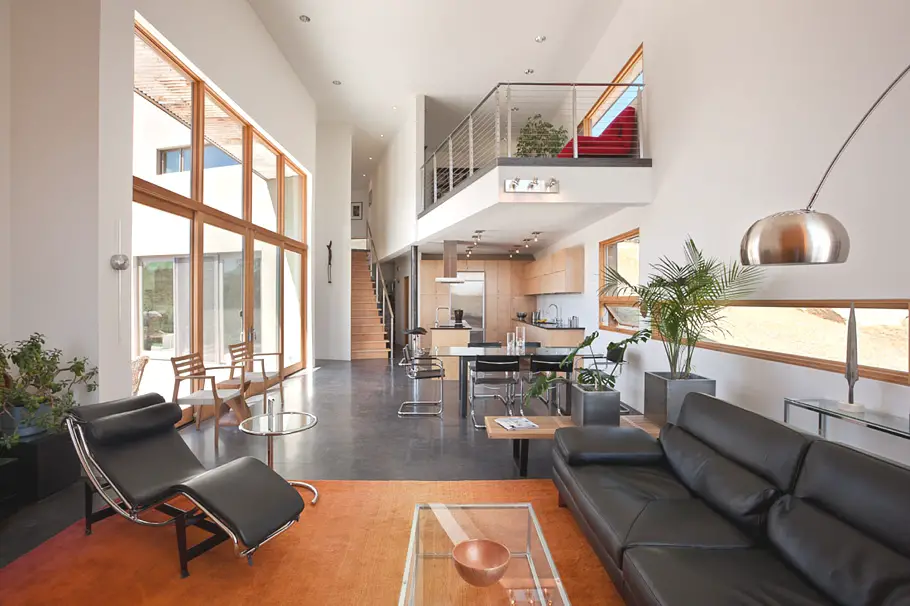 Albuquerque-based architectural practice, Edward Fitzgerald Architects, has designed the Oblio House project. The contemporary family home is located in Cedar Crest, New Mexico, US.
Built on a steep hill, the design of this house is organised on two levels that step down the site to the main living area and that opens on to a terrace.
According to the architects: "Entrance is from the upper level, passing in between two walls acting as a curtain between two worlds. Once inside, circulation doubles back in the opposite direction revealing views of the private natural sanctuary and accessing the guest quarters, study loft and bathroom.
"This axis intersects the orthogonal geometry of the lower living area. The lower level contains an open living / dining / kitchen area; utility and master bedroom. These areas open onto a terrace that steps down into the natural private landscape that surrounds the house.
"The contemporary house is constructed of polished concrete floors, insulated concrete forms (ICF), and recycled wood stud framing. Exterior finishes are stucco and rusted metal roof and wall panels.
The house utilises passive solar photovoltaic and hot water roof panels for electricity and in-floor heating. Rain water is collected into underground cisterns for landscape irrigation."
Images courtesy of Robert Reck
Love Interior Design & Exotic Travel? Follow us..
May 31, 2014 | Property | View comments