Next to the chapel, Farmstead b, Sterzing, Italy
Italian and Austrian architectural practice, Bergmeisterwolf Architekten, have designed the Next to the chapel, Farmstead b project. Completed in 2011, the contemporary property can be found in a little village, above Sterzingn in Italy.
According to the architects: "The contemporary home is located on a height of 1.4 metres above sea-level. Out of a farmhouse with an old oven (made of stone) which were both fit for demolition a new holiday home was constructed for a private client.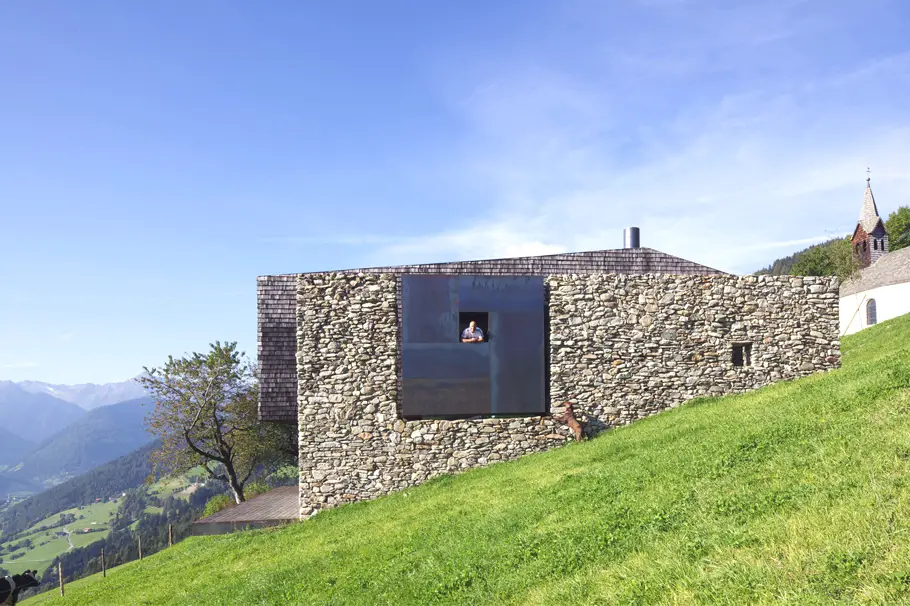 "Together with the historical chapel an ensemble on the mountain the property was built alongside. It was important to integrate a place to live, a sauna, a garage and a henhouse into the landscape.
"All new buildings were inserted into the landscape without changing the topography. They should be separated according to their function, form and material and still create a unity because of their positioning.
"We worked with what we found and discovered – the landscape as well as the remains of the old farmhouse like the stone wall and the traditional materials such as the shingles from the chapel.
"The starting point was the old stone wall of the farmhouse for us. After a long search we finally found workers (stone artists) who were able to rebuild it according to old architecture without the use of mortar.
"The structure was covered with shingles following the roof also on the soffit, they were exposed to wind and weather already one and a half year before, in order to achieve a relatively uniform weathering, a silvery tone.
"Simple materials, like the concrete ceiling which was roughly structured with laths, glass elements, as well as steel and wood characterise the interior design.
"As a basic principle old materials were reused and combined with new ones. At the same time, a sauna box belongs to the ensemble which is stuck in the territory. The simple element was supplied with earth-coloured plaster.
"The roof is intensively covered with greenery. The jutting out and pending terrace is roofed but at the same time also open and offers  a wonderful view over the valley.
"On the other side there is the garage, an almost black cube in the landscape, covered with greenery, simple with small cut-outs and larch-wood laths.
"A game between architecture, landscape and art should come to life."
Images courtesy of Günter Richard Wett
Love Interior Design & Exotic Travel? Follow us..
July 12, 2013 | Property | View comments