New Ted Theatre in Vancouver by Rockwell Group
New York-based international architectural practice, Rockwell Group, has designed the Ted Theatre project. Completed in 2014, the contemporary designed building is located in Vancouver, Canada. 
The firm designed the temporary, demountable and portable theatre to celebrate the 30th anniversary of Ted's new home in Vancouver.
This year the Ted Conference, the non-profit organisation devoted to "ideas worth spreading", has moved from its former home in Long Beach, CA to Vancouver, BC. and the new 20,000 square foot, 1,200-seat theatre has been installed within the ballroom of the Vancouver Convention Centre.
Rockwell Group has drawn inspiration from scaffolding, temporary spaces and structures that signal the start of an event, such as campfires. Recognising that primary reason people go to Ted is for the talks as well as the related social activity, the theatre will offer more than 10 different seating options, including ringside benches, lounge seating groupings, rows with combination of benches and chairs, and a standing room area in the back row where people can blog without disturbing the rest of the audience.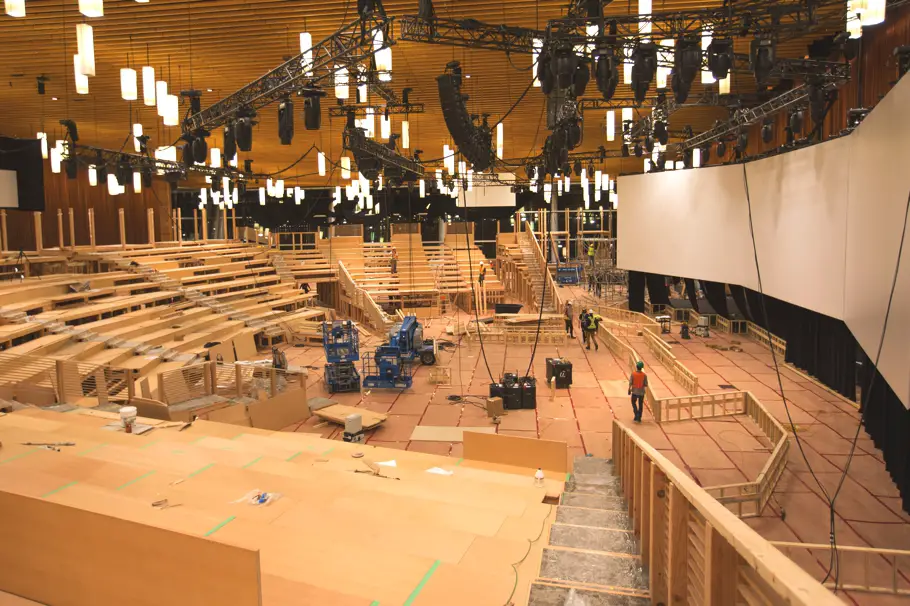 Closer to the front row, they have designed custom built floor lounges that are inspired by the social and informal nature of Ted's New York office and bean bag lounges.
The theatre is comprised of smaller components that can be repeatedly assembled and disassembled. The majority of the components will be made from wood (Douglas fir). Rockwell Group is working with Nussli to develop all of the component parts to enable rapid deployment, load-in and load-out. Nussli is using a computer aided cutting machine, which will result in only about 2 per cent waste once all of the material is cut and processed.
Steelcase has fabricated and in some cases customized all of the furniture in the auditorium.  All of this furniture is bespoke for the theatre and will accompany it wherever it is erected. The theatre features Layered Luxe Crease, a new carpet by Rockwell Group for Shaw Hospitality Group, as well as a red stage carpet by Shaw.
Images courtesy of Rockwell Group
Love Interior Design & Exotic Travel? Follow us..
April 8, 2014 | Property | View comments