Neel Sutra a contemporary Indian fashion store, Haryana
New Delhi-based architectural practice, Architecture Discipline, has designed the Neel Sutra project. Completed in 2013, the retail interior design was completed for Neel Sutra, a fashion store located in New Delhi, India.
Designed as a first in a series of multi-designer pret stores, where the collections are themed and curated, Neel Sutra- the India fashion store is emblematic of Indian design ethos.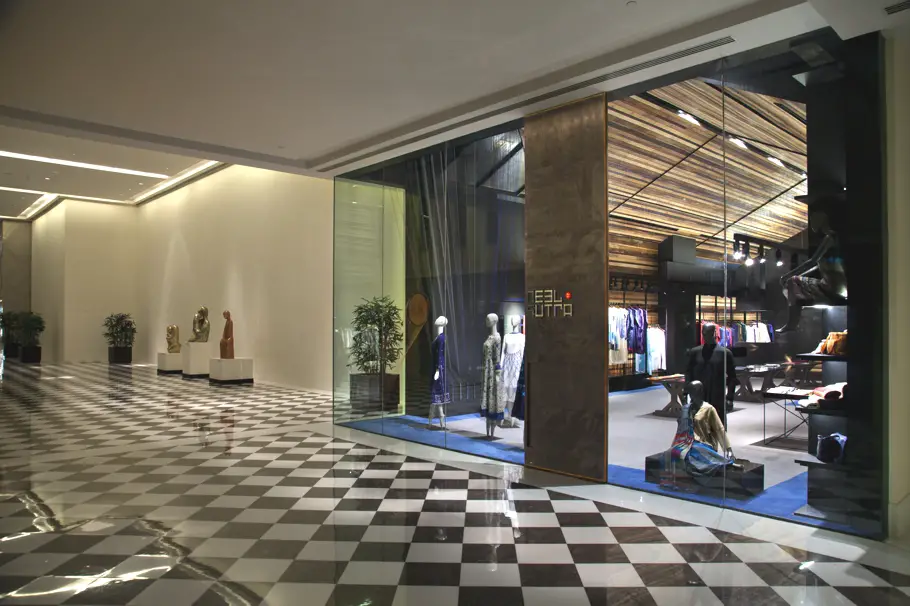 According to the architects: "Located at The New Oberoi Hotel in the suburban abode of NCR- Gurgaon, the hotel spawns a high-end luxury international experience. The brief was to create a unique and distinct design ambience that would be conspicuous within the context of other established global hi-design brands at the hotel and elsewhere in the vicinity. The customised and curated store is conceived within this international collective construct as a step ahead of conventional high street retail to showcase a motley bunch of Indian fashion designers. Contemporary design in India usually expresses the complexity in Indian design discourse with kitsch. The India fashion store is a cognizant attempt to stay away from Indian kitsch, and instead craft a sacred space.
"The need for a resilient identity and a compelling space was impending- one that could mark a presence regardless of the ever-changing exhibits. At the same time, it was important to create depth within the spatial volume, and induct a sacred sense of vastness. Fashion design in India, is most often connotated as a fiddly amalgam of colours, weaves and layers. In contrast, an extremely structured space is created using multiple architectonic elements. The store hence becomes a figurative response as a tribute to Indian fashion. Weaves that are reminiscent of Indian textile design, are contrived in the form of layers which use material play that befits Indian context, manifesting themselves as fundamentals within the store."
Images courtesy of Jeetin Sharma
Love Interior Design & Exotic Travel? Follow us..
August 15, 2014 | Property | View comments