One bedroom flat with modern interior design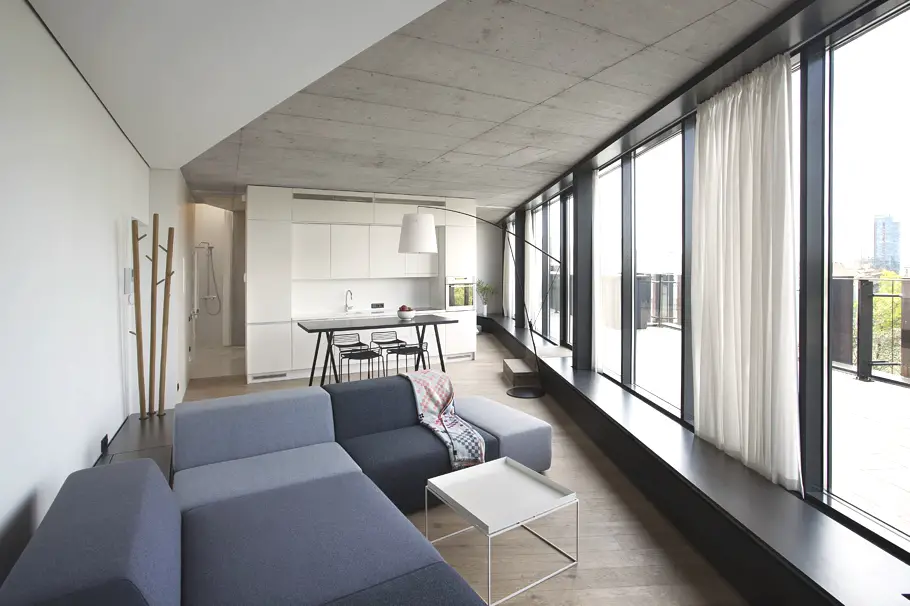 Vilnius-based architectural practice, Inblum, has redesigned the interior of an apartment located in Vilnius, the capital of Lithuania.
The one bedroom Vilnius apartment  has been transformed into a chic and stylish living space by the designer.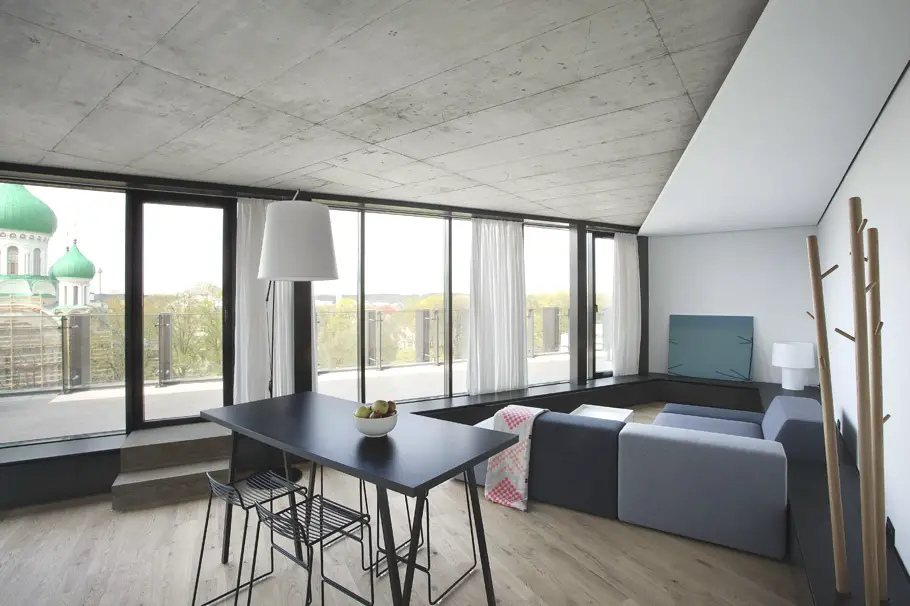 According to designers: "To make full use of the space available and to solve functionality problems, finally turning a moderately-sized flat of tight structure into a light, spacious home to comfortably accommodate its residents during their short stays in Vilnius – such was the project objective as formulated by us and the client.
"First and foremost, we got rid of the structure based on isolated rooms. Certain partitions were removed making place for the wide sliding doors, thus forming a common, multidimensional space. The flat became visually larger, and more of the facade window area came into view. The connection between the inner space, the terrace and the environment acquired greater integrity.
"All of the living area was skirted with a wide windowsill. Besides combining the various-purpose zones into one common space, the windowsill incorporated heating radiators. Its living room section became an excellent chest of drawers to store lots of small things.
"For this modern flat we designed a special sofa unit of separate pieces. It can be easily adjusted to you needs, i.e., it can transformed into a double bed.
"A ventilation and air condition unit for the whole flat was integrated into the kitchen cabinet, while the lighting system was concealed in the suspended ceiling plane. The geometrical forms of the suspended ceiling compositionally united the living-room and the kitchen spaces, with all that they remained open, directed into the distance by dynamic lines…
"Finally, the whole set of functional and aesthetically solutions made it possible to create a clean and harmonious space, open to life and improvisation.
"The 'released' space became open, the environment flowed into it, with all its delicate sounds and tender colours, with the green domes of the opposite church reflecting in the windows."
Images courtesy of Augis Narmontas
Love Interior Design & Exotic Travel? Follow us..
July 29, 2014 | Property | View comments