Modern design at Casa G by Carola Vannini Architecture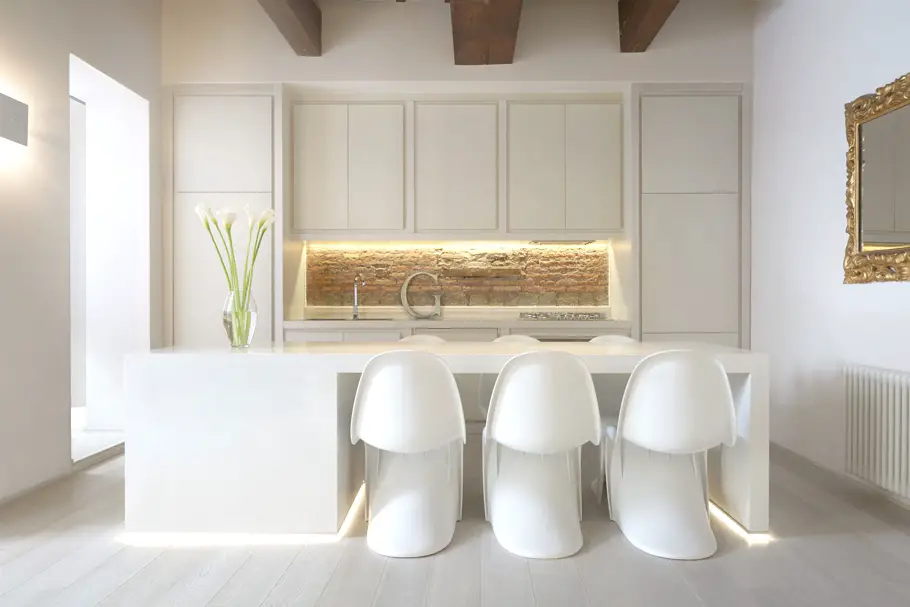 Rome-based architectural practice, Carola Vannini Architecture, has designed the Casa G project. Completed in 2013, the contemporary apartment boasts stunning interior design and is located in Trastevere, Rome, Italy.
This chic Roman apartment has been restyled while keeping the existing main walls and structure intact. The overall design is minimal with a splash of colour in the children's room. Exposed beams in the rooms make the apartment feel more homely instead of clinical.
According to the architect: "Even thought the ancient structural walls have been maintained as they were, the final look has been completely changed thanks to a different use of functional areas, materials and colours.
"The kitchen has been moved into the large day area that also includes both dining and living spaces." Adelto loves the exposed brickwork – gives the apartment a very urban chic feel.
"The use of a white oak parquet in the entire apartment has created a continuity in lightening the different rooms while suggesting a very warm interior design feeling. A deep study of the lighting design has also helped to emphasise the architectural and furniture volumes.
"The concrete white kitchen table has a recessed led light underneath it, which makes it look as if it is suspended above the floor.
"Back lit plexiglass panels that hide large storage spaces contribute to create wide and light perspectives."
Images courtesy of Stefano Pedretti
Love Interior Design & Exotic Travel? Follow us..
January 11, 2014 | Property | View comments