Modern architecture design at AV House, Buenos Aires, Argentina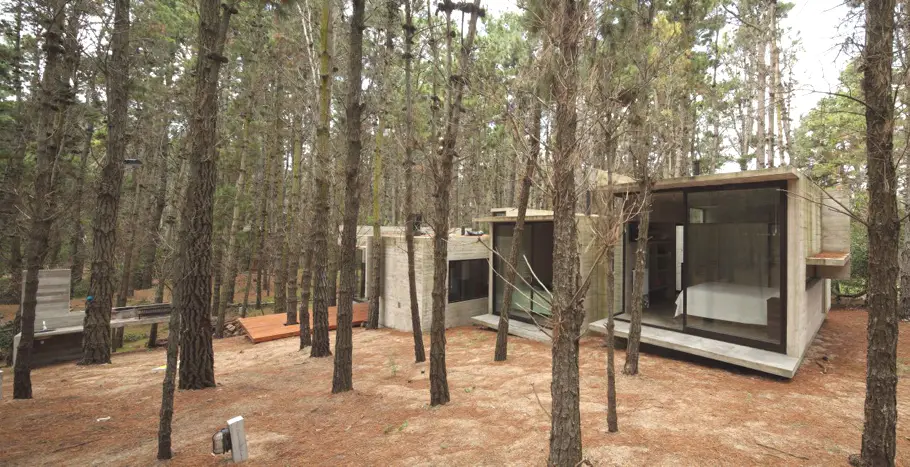 The now defunct architectural practice BAK Architects designed the contemporary AV House.  The private residence can be found in Villa Gesell, Buenos Aires, Argentina.
The plot of this contemporary Argentinian property can be found in the forest of Mar Azul on constant slope in the direction of one of its diagonals.
The views from the front are protected by natural vegetation, very profuse all over the property.
According to the architects: "The brief from the client was a to build a house for letting purposes, about 100m2, with an aesthetic-constructive proposal similar to the other houses built in the area by the studio.
"The basic needs of the holiday home included: two bedrooms, one en-suite, an integrated kitchen and plenty of outdoor spaces.
"It was then proposed that different uses could be located in different volumes that would be arranged naturally into the slope.
"This first decision triggered successive solutions derived from it: the turn of the plan in relation to the sides of the lot in order to match its natural slope was the first, with this axis alignment of the house in east-west direction and, consequently, the resolution of two clearly differentiated façades.
"The rotation also determined the access from the façade that opens onto the street and the expansion place of the house towards the opposite. The entry to the house was proposed in the center of the plan, i.e. the midpoint of the slope and at the same level of the sector dining room, kitchen and outdoor expansion. From there one ascends to the quieter areas of the home and descends to the area of contemplation facing the fireplace.
"The property is constructed with two basic materials: exposed concrete and glass. The slabs of the different volumes are supported through concrete walls and beams, and were finished with a minimum slope in order to produce faster runoff of rainwater.
"H21 concrete was used with the addition of a fluidifiant so that this mixture, with little amount of water to harden, results very compact and doesn't require sealing.
"The few interior walls of hollow bricks are finished in concrete screed; floor cloths are also from concrete screed divided with aluminum plates. The interior design is extremely modern and simple.
"The heating system, since there is no natural gas in the area, was resolved with a system that combines a fireplace, bottled gas stoves and electric stoves."
Images courtesy of Gustavo Sosa Pinilla
Love Interior Design & Exotic Travel? Follow us..
February 21, 2013 | Property | View comments