Modern apartment in Barcelona with 'transversal expression'
Susanna Cots a Barcelona-based interior designer has completed the design for this modern home for a couple in Barcelona, Spain.
The award-winning home was awarded the 'Best Apartment' at the Idea Tops Awards, which were held in the Chinese city of Shenzhen, considered one of the fastest growing cities in the world. The city recently unveiled its new international airport, which we featured.
The interior design of the house was conceived as a wooden skin that transversely crosses the spaces of the owners, two bibliophiles.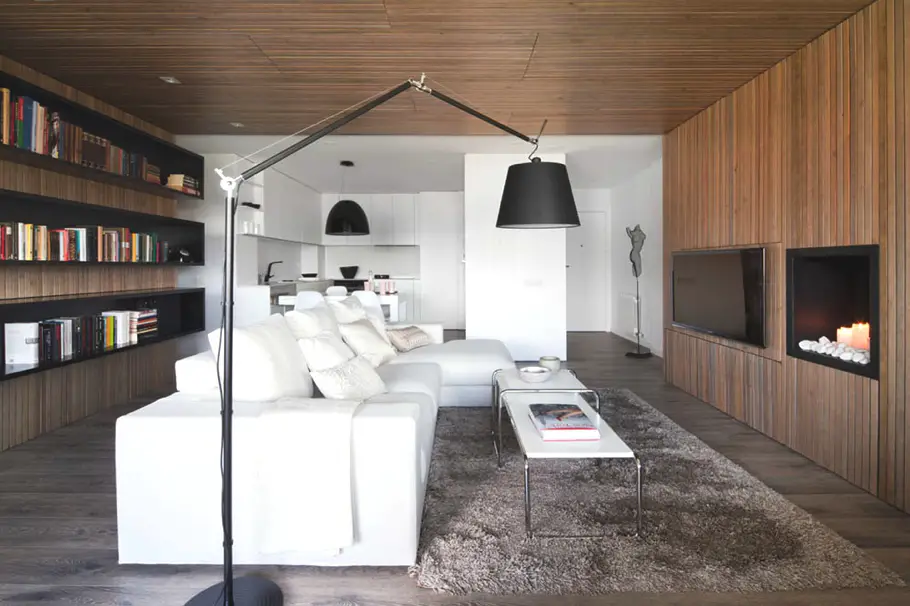 According to the designer: "Wood crosses the apartment vertically and horizontally creating a warm and emotional passageway and natural light shines in every corner of the property, creating energetic spaces. Taking inspiration from slow philosophy, the rest of the house has been designed in white. The visual fusion with the exterior and with nature has been carefully projected to connect with the emotions and sensations of feeling at home.
Adelto loves the white rooms, which have been accessorised with black touches, such as shelves and decorative lamps.
The suite includes a water area to evoke a relaxed feeling. This is why the the designer designed a bath next to the bed, with a door system that turns into a relaxing bench. The shower has been emphasised by projecting it double and invading it with natural light. This final touch is an armchair of the owners, which turns the room into a fascinating eclectic space.
The kitchen furniture has been designed in white lacquer on white silestone and is completed with a hidden panel-door that flows into the exterior laundry room.
Reading is part of the daily routine of the owners and that is why the central area is transversally surrounded by bookshelves. The studio is fully integrated into the living room and creates a corner flooded in light that faces the terrace.
Images courtesy of the designer
Love Interior Design & Exotic Travel? Follow us..
December 31, 2013 | Property | View comments