Minimalist Jellyfish House by Wiel Arets Architects
Amsterdam-based architectural practice, Wiel Arets Architects, has designed the Jellyfish House project. The minimalist family home is located in Marbella, on the Mediterranean coast of Spain.
This minimalist Spanish property boasts five bedrooms, an outdoor swimming pool and contemporary lighting.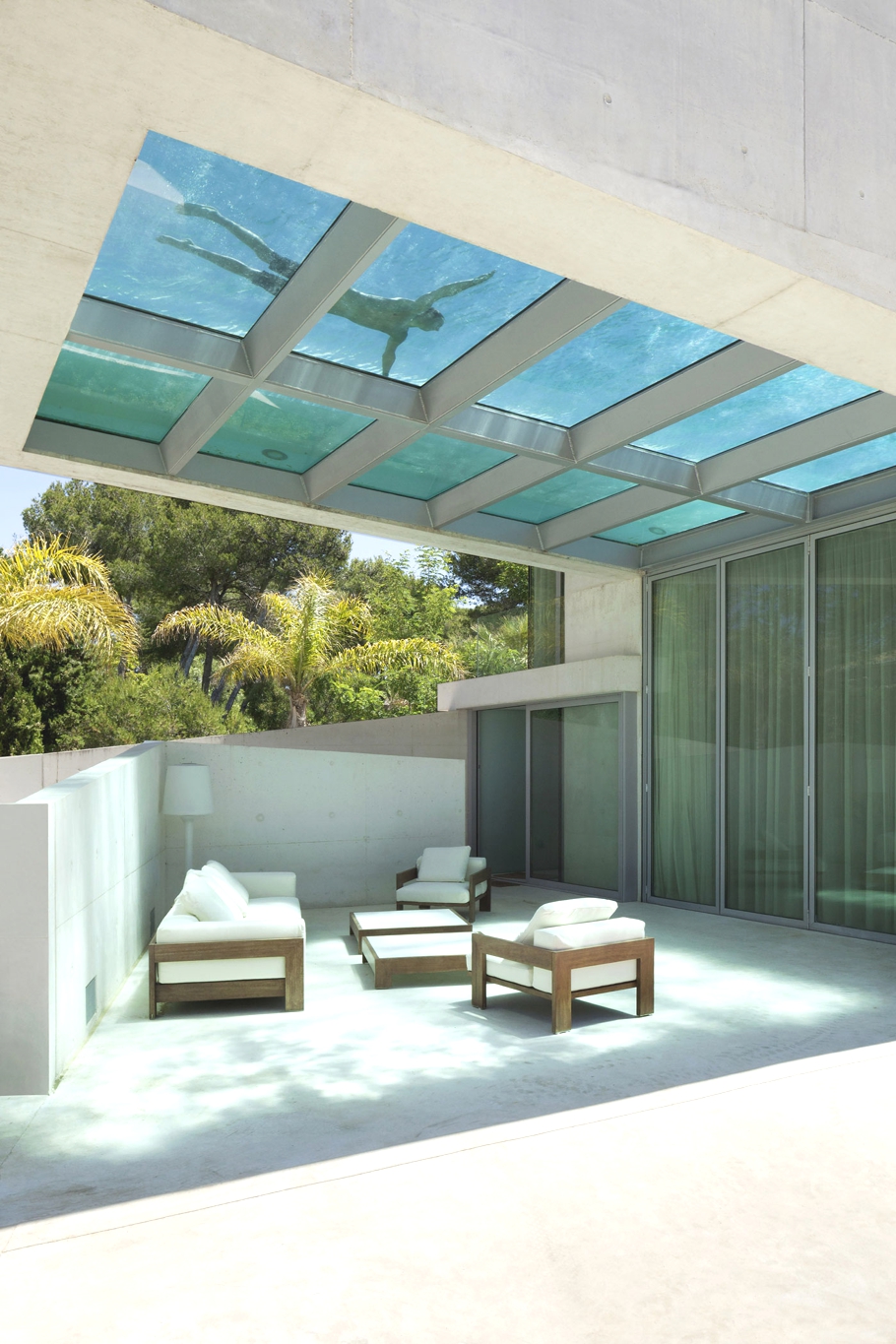 According to the architects: "The Jellyfish House's neighbouring buildings block its view onto the nearby sea. Appropriately, it was chosen to cantilever the house's pool from its roof, so that the beach and sea can always be seen while sunbathing or swimming. The house is organised around two paths of circulation: a 'fast' and 'slow' set of stairs, which intertwine and traverse the house's four levels of living. The 'fast' stair leads from the exterior directly to the roof; it is enclosed in glass, which physically separates it from the house's interior, yet it is simultaneously open to the exterior elements, so that sand is not brought into the house when returning from the beach. The 'slow' stair–whose long treads and short risers lend it its name–spans the entire length of the house, from ground floor main-entry to roof; it is indoors yet also open to the exterior elements, further amplifying the house's capacity for 'interiority'.
"The luxury house's rooftop pool is cantilevered nine metres southwest – toward the Sierra Blanca mountain range in the distance – and weighs nearly 60,000kg. Equipped with an infinity-edge, its water merges with the sea in the distance. This pool has a glass-bottom floor and a panoramic window at its interior facing edge, both of which are six centimetres thick; the latter allows those in the kitchen to voyeuristically view those swimming, while a third window affords those in the kitchen a glimpse of the living room, whose terrace extends under the cantilevered pool.
"The searing Spanish sun constantly filters through the pool's glass wall and floor, creating ripples of iridescent turquoise reflections throughout the entire house. As such, the pool can be seen and experienced from nearly all areas of the house. Integrated within the pool is an underwater bench, which traces its length and also integrates a pool cover, so that it is out of sight when the pool is in use."
Images courtesy of Jan Bitter
Love Interior Design & Exotic Travel? Follow us..
February 27, 2014 | Property | View comments