Minimalist designed home – C House by Lode Architecture
Paris-based architectural practice, Lode Architecture, has designed the C House project. The contemporary home is located close to Paris, France.
According to the architects: "Located 20km away from Paris, this house is belongs to a family who had their former home built by a constructor. However, this time they wanted to have a more deliberate architectural approach for this new house, a home that is completely bespoke and out of the ordinary.
"The main interior design themes were quickly identified: continuities and discontinuities of shared spaces and private spaces, distances and visual relations between children and parents, panoramic shot and driveway, incorporation of a swimming pool.
"Inspired by the straightforward Californian architecture built to fit the suburb lifestyle, the house showcases cars as they come and go and puts the swimming pool at the center of life at home.
"Across the full width of the lot, the flat silhouette of the house puts together a garden up front and a patio at the back. The house is embedded with the natural hillside to fit perfectly within the landscape. Once an orchard the plot has been turned into a minimalist architectural design fit for a family.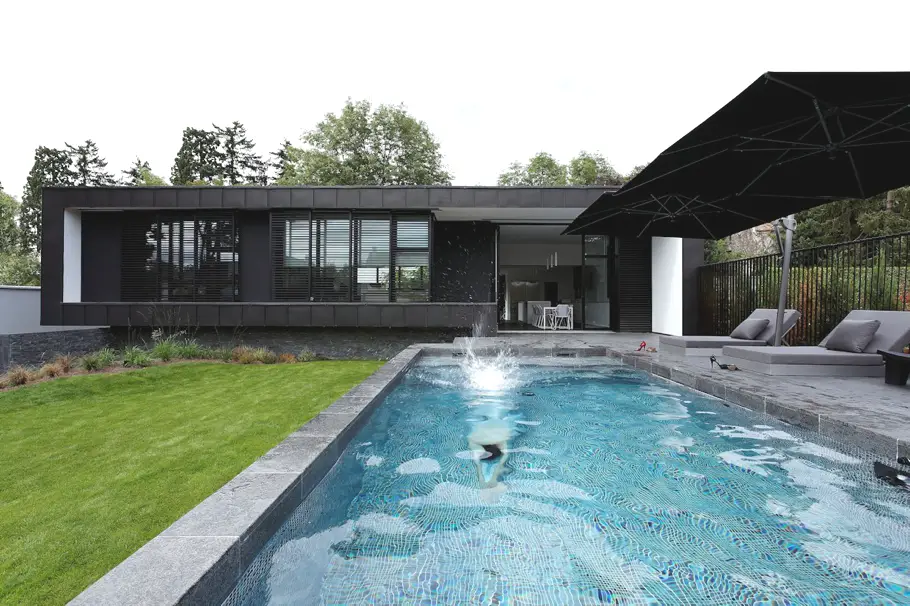 "The design of the home moves alongside the garden before you enter via the the stylish car port. A private stairway leads directly to the heart of the house.
"The back of the house is built around a patio. This closed space creates a play on visuals between adults and children's spaces. The ensemble of rooms– kitchen-living roomswimming pool is oriented in such a way that it links the terrace and pool area to the patio. The light-filled living room overlooks the garden and enjoys an unobstructed view which overlooks the children's bedrooms.
"Choosing a single-level house offers the possibility of orienting all of the living spaces southwards. The solar gain is regulated during summer by an extended roof and controlled by sliding indoor blinds. The swimming pool and its terrace also enjoy great exposure to the sun. Its temperature is regulated by the solar panels on the roof. A heat pump provides the house with heat and hot water. The north position of the patio opposing the mineral soil of the south side emphasizes the temperature difference between the two sides of the house. This architectural system allows natural cooling by convection without air conditioning. The house is insulated from the outside due to the stability of the concrete slabs. As the architecture of this house integrates these sustainable development methods in its design, the appearance makes it less obvious which is eco-friendly at its finest: eco-friendly undetected."
Images courtesy of Daniel Moulinet
Love Interior Design & Exotic Travel? Follow us..
August 21, 2014 | Property | View comments