Melba House designed with a twist, Australia
Torquay-based architectural practice, Seeley Architects, have designed the Melba House project. The luxury home has been designed so it's bedrooms are on ground level and the kitchen/dining and living rooms are on the first level. The property is set into a hillside overlooking the rugged Anglesea coastline in Victoria, Australia.
Melba House has been designed for a retired couple who use the property has a weekend holiday home.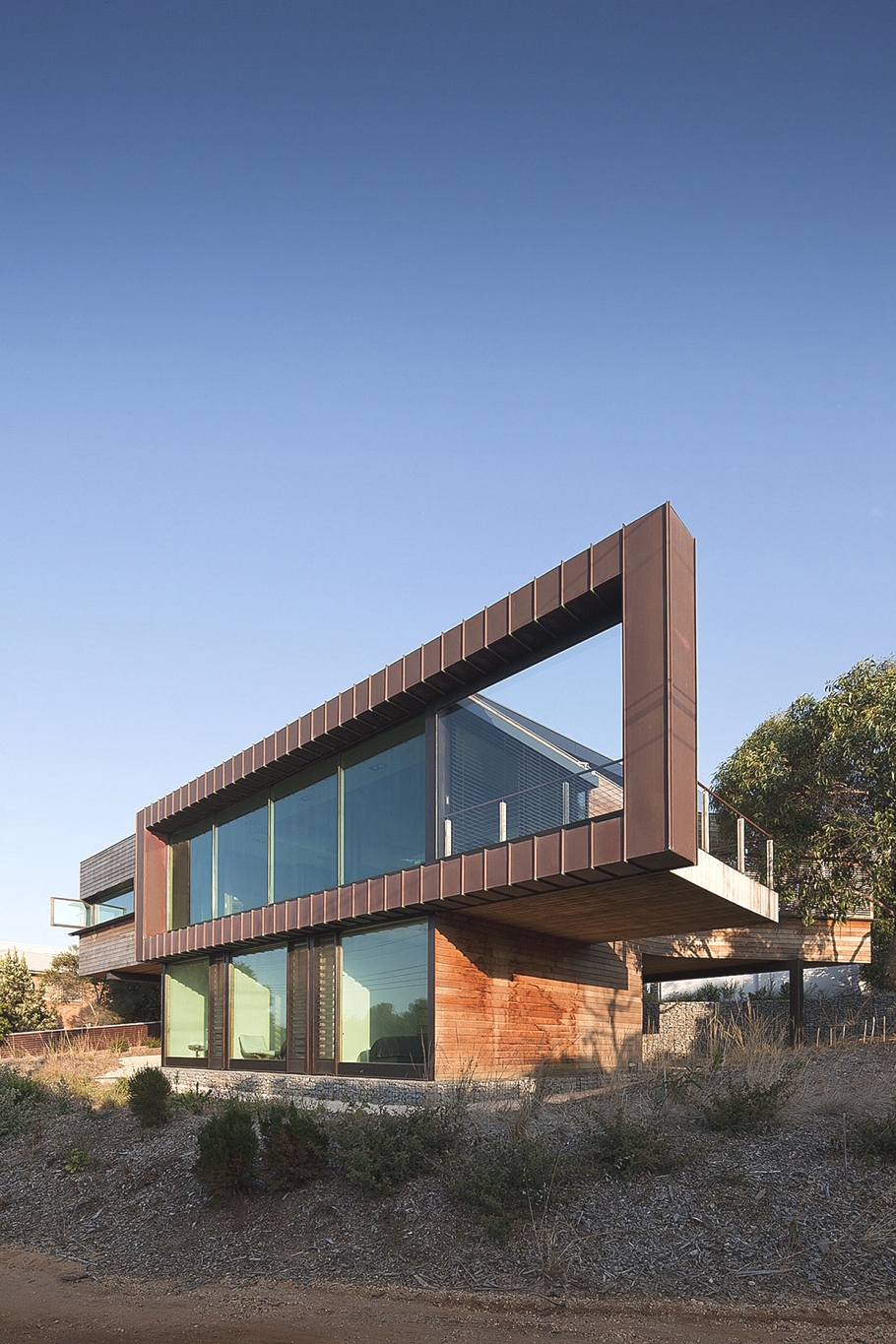 According to the architects: "The house is dug into the sloping site with dynamic cantilevered spaces overhanging the earth. The exterior of the house is clad in locally sourced timber boards for their beautiful weathering characteristics. The facade will slowly transform into a silvery grey driftwood colour, with subtle textural variations complimenting the surrounding native vegetation. Massive granite filled gabion walls retain the hillside and form the boundary of the carport hidden beneath one of the branching cantilevers.
"Entry to the residence is from beneath one such cantilever, through a gallery space that leads to a staircase and up into the open plan kitchen and living area. The lower level is reserved as sleeping quarters for family and guests. Decks to the north and east branch off the Living area. Sliding timber screens wrap around the northern deck providing privacy from neighbours and shading from the sun, with the added benefit of beautiful patterned light being cast internally. Internal linings are drawn outward, with sustainably grown Hoop Pine plywood ceiling panels evolving into external soffit linings. The owners also entertain on the eastern deck, enjoy the coastal views and remain protected from the harsh winds by a massive south facing glazed sliding door. The master bedroom sits adjacent to the living area and enjoys elevated coastal views and the first glimpses of approaching visitors.
"When the contemporary Australian property is viewed from the street, the external form and materiality expresses the internal functions. The living areas are glazed and encased by a copper frame while the master bedroom is privatized by the timber cladding and strategic window placement. The form, materiality and divisions of space in this contextual dwelling create a warm modest retreat that can swell to provide a leisurely haven for family and friends."
Images courtesy of Shannon McGrath
Love Interior Design & Exotic Travel? Follow us..
October 24, 2013 | Property | View comments