Mei Li Zhou Church by Tsushima Design Studio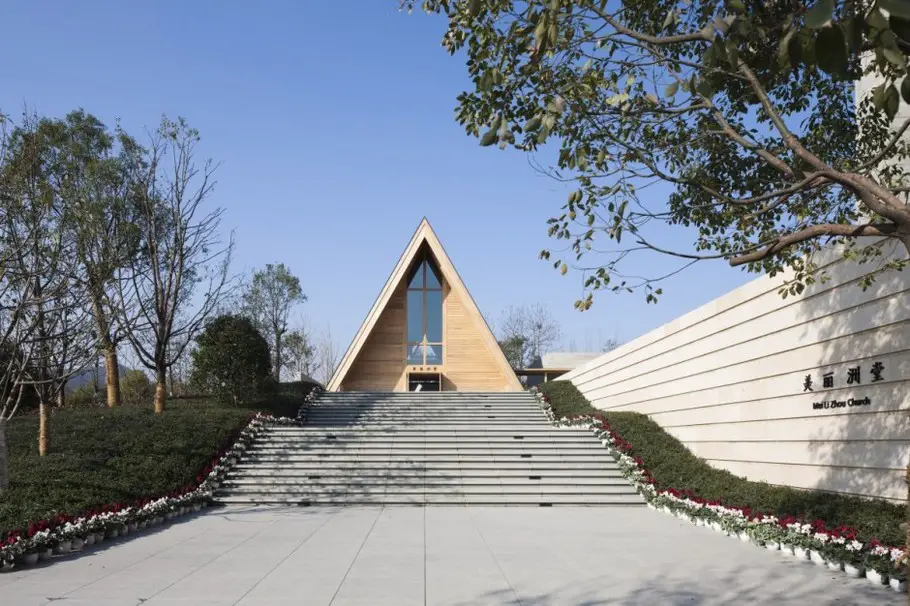 Mei Li Zhou Chirch was designed by Tsushima Design Studio and is located in a wooded development in Hangzhou China.
Mei Li Zhou Church was not only created for religious services, but as both a spiritual and community retreat for all of the surrounding community regardless of religious beliefs. Surrounded by nature, the Mei Li Zhou Church sits not as an object to be viewed from afar, but rather attempts to blend in naturally to its existing surroundings. The pathway is just a sign of the luxury that Mei Li Zhou Church encases.
Lined by white and red flowers on either side, the pathway leads to the simple form of the main structure; a shape of a perfect Equilateral triangle. This symbolically can represent not only the Trinity or the emblem of the Papacy, but unity in diversity, something which was integral to the architect's brief. At night, the pathway is littered with artificial lights, another religious connotation cleverly placed by the architect.
The interior is equally as efficient yet comfortable. Excellent use of wooden materials enhances the beautiful architecture of the Mei Li Zhou Church; a modern, remarkable building.
Love Interior Design & Exotic Travel? Follow us..
October 27, 2011 | Property | View comments