Luxury penthouse design with beautiful views across Warsaw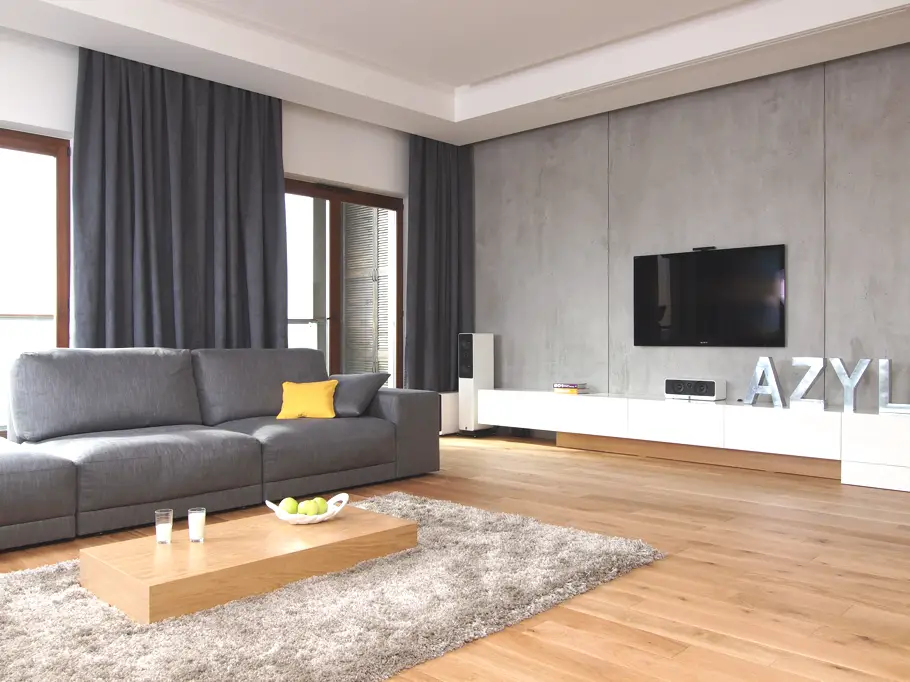 Polish architectural practice, Hola Design, have completed the refurbishment of this luxury penthouse. Completed in 2012, the fabulous penthouse can be found in Mokotów, Warsaw, Poland.
This spacious penthouse is located on the 12th floor of a building and comes with beautiful views across the capital city of Warsaw. The design brief was to keep the penthouse contemporary and spacious. The main living room is open plan with a modern design kitchen and a large sliding window on the terrace. The main wall in the living room has been finished in raw concrete – very minimal chic.
The kitchen with island and table forms an extension. In the living room a large, comfortable grey sofa by Comforty Badu is the main feature. All the furniture in the penthouse building has been designed by HOLA Design and is bespoke.
The contemporary Polish property also comes with an en-suite bathroom with a contemporary glass wall, with the possibility of division into two separate rooms – one accessible from the hallway leading to the guest room with shower and toilet, the other with a bathtub and a sink accessible from the bedroom. There is also a freestanding bath overlooking the terrace. The colour scheme for the interior design has been kept simple by using white, grey with natural oak.
Images courtesy of Sylwester Rejmer
Love Interior Design & Exotic Travel? Follow us..
May 29, 2013 | Property | View comments