Luxury Oceaniques Villas by MM++ Architects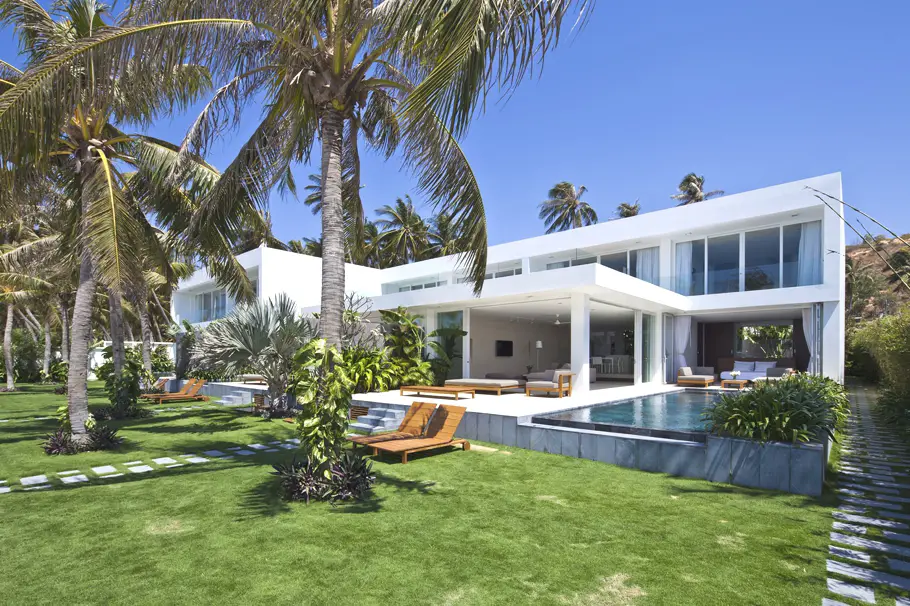 Ho Chi Minh City-based architectural practice, MM++ Architects , has designed the Oceaniques Villas project. Completed in 2014, the luxury villas are located in Mui Ne, Phan Thiet, Binh Thuan, Vietnam.
This small real estate development is located in Mui Ne, a seaside holiday destination in Vietnam's south east coast.
According to the architects: "The site has a trapezoidal shape 110 meters deep between the ocean and the road and 42 meters along the beach. The sea front view is amazing and unusual for a private residential project in this area, usually occupied exclusively by resorts and hotels. The idea was to maximize this potential with semi-detached sea front villas and keep a large part of the land as a "buffer" landscaped area to prevent noise from the road.
"The construction is composed of three units: Two three bedrooms villas, and one four bedrooms villa, each with a private swimming pool. The construction was raised to 1.8 meter from the beach level in order to keep a good privacy from the public beach, maximise the sea view and prevent from site erosion.
"The interior design layout offers a generous sea view for each space: On the ground floor the kitchen, dining and living room are merged in one single space mono-oriented to the beach front while the back has been designed with a patio open to the sky to bring sunlight, natural ventilation and a nice sequence for entrance and staircase with the pond and the interior tropical garden. Master bedrooms are open to the infinity swimming pool and by extension to the sea. In the back, each bathroom has a private garden with Jacuzzi, bringing light, ventilation and strong outdoor/indoor connection.
"On the first floor, all bedrooms have a large ocean view with floor to ceiling windows recessed in the concrete structure providing enough shadows. On the front, the flat roof becomes a huge timber decking terrace, extending possibilities to contemplate the ocean. In the back, are located the bathrooms, naturally ventilated through timber louvers.
"Elevations are simple, following the layout strategy. The beach front elevation is widely open with large aluminum frame windows while the back elevation has no windows but timber louvers only. Therefore, in addition to the open air patio on the ground floor, it has been possible to limit the air conditioning to the bedrooms only.
"This amazing location, so closed to the sea, is a dreaming place for living. This project tries to not miss this opportunity to offer to the guests a total and unique 'seaside' experience. In line with our practice, the materials are basic and the design is minimalist, focusing on the quality of each space with no sophistication."
Images courtesy of Hiroyuki OKI
Love Interior Design & Exotic Travel? Follow us..
September 29, 2014 | Property | View comments