Luxury house in Blair Atholl by Nico van der Meulen Architects
Randburg-based architectural practice Nico van der Meulen Architects has designed the House in Blair project. Completed in 2015, the luxury home is located in Blair Atholl, Johannesburg, South Africa.
This luxurious contemporary farmhouse is situated within a secluded golf estate located between Pretoria and Johannesburg. The double storey home boasts nearly 750 m² and is surrounded by serenity and tranquility.
The brief called for a contemporary, practical home that makes provision for outdoor living with an emphasis on entertaining. Due to the form-follow-function approach of the design, this modern family home is spacious and uncluttered from unnecessary decorative elements.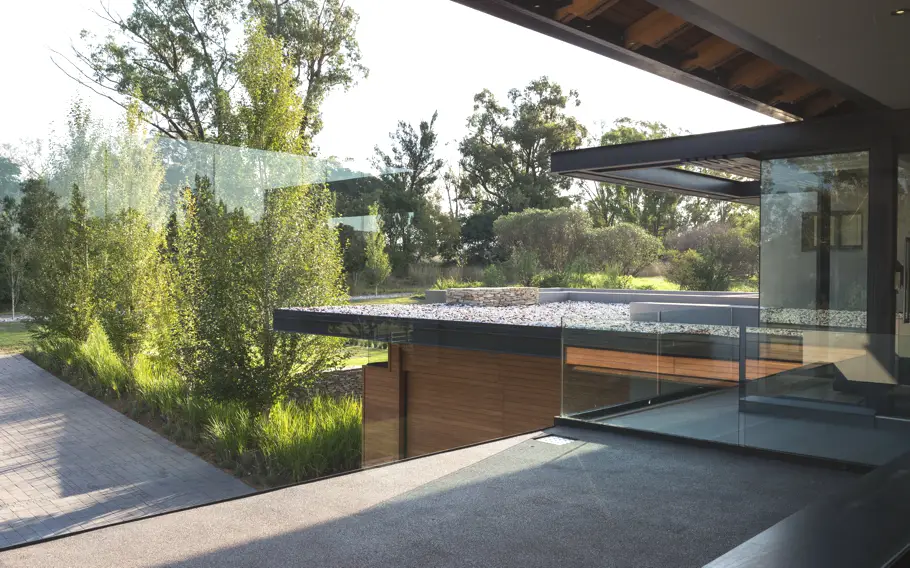 The interior design concept is undoubtedly a strong one which speaks for itself and whilst Werner van der Meulen was restricted by the estate rules which included making use of pitched roofs and specific natural materials, it was in fact these very parameters which led to the concept of a contemporary farmhouse. The floating double pitched slate roof also played a huge role in the development of the concept and reinforces the contemporary nature of the design.
Orientating the house northwards allows for the home to be naturally lit all year round and provides expansive views of the garden from nearly every room. While the overhangs provide protection from the sun during the summer, they also ensure that the sun still penetrates the rooms during the winter months.
Images courtesy of nicovdmeulen.com / David Ross and Barend Roberts
Love Interior Design & Exotic Travel? Follow us..
July 1, 2015 | Property | View comments