Luxury family home with fabulous outdoor space, Agua House, Buenos Aires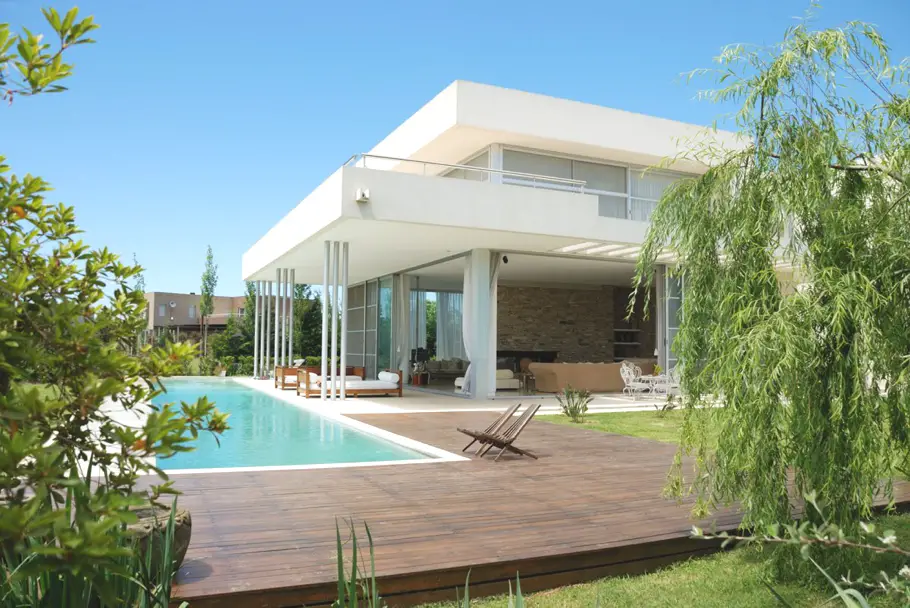 Argentinian architectural practice Barrionuevo Sierchuk Arquitectas have designed the Agua House project. The luxury family home can be found in Buenos Aires, Argentina.
According to the architects: "The site covers 2,000sqm (21,530 sq ft), facing the northeast, looking at the Canal Arias river, in the suburbs
of Buenos Aires. The property has 450sqm (4,840 sq ft) and has been designed for a couple without kids.
"On the ground floor a programme of very large reception area can be found that open and closes by very big wooden sliding doors that hide into the walls. Once outside you are greeted by a fabulous swimming pool and wooden deck.
"On the first floor you can find the master bedroom and another small bedroom for guests.
"The luxury Argentinian house is designed based on two stone walls (made of Laja Neuquen) that interact all over the house. The colour of the stone is the origin of all the colour pallet of the house. The landscape all the time gets to the building across it's big crystal facades. The large windows allow light to flood the rooms and transforms the house into a bright and airy property."
Images courtesy of Daniel Tejo and Adriana Edith Sierchuk
Love Interior Design & Exotic Travel? Follow us..
April 7, 2013 | Property | View comments