Luxury family home – Melkbos, Cape Town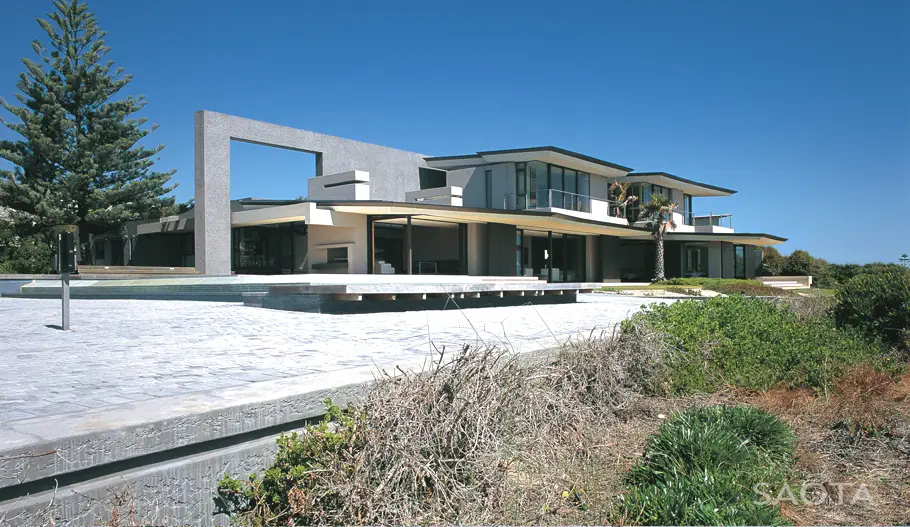 Cape Town-based architectural practice, SAOTA, have designed the Melkbos project. The luxury family home is located approximately 30 km from Cape Town along the idyllic but also extremely harsh West Coast.
According to the architects: "The form and siting of the house is strongly orientated around views. On entering the house, the focus turns completely to the sea facing side of the home, which opens up and embraces the landscape of the West Coast.
"The road facing screen wall which mirrors the roughness of the landscape, is separated from the refined and highly detailed  living spaces by a skylight which runs the full length of the house. From this screening element, the house is organised in a linear manner with all rooms facing magnificent sea views. The interior design is minimalistic and completely functional. Floor to ceiling cavity sliding glazing allow the living areas to open up to the landscape.
"Light and spacious indoor/outdoor living areas make this home perfect for those who wish to escape the city life. The house has almost taken on the personality of its surroundings and allows one to engage with the exquisitely beautiful rough and weather-beaten coast."
Images courtesy of SAOTA
Love Interior Design & Exotic Travel? Follow us..
August 27, 2013 | Property | View comments