Luxury Familiar House, Spain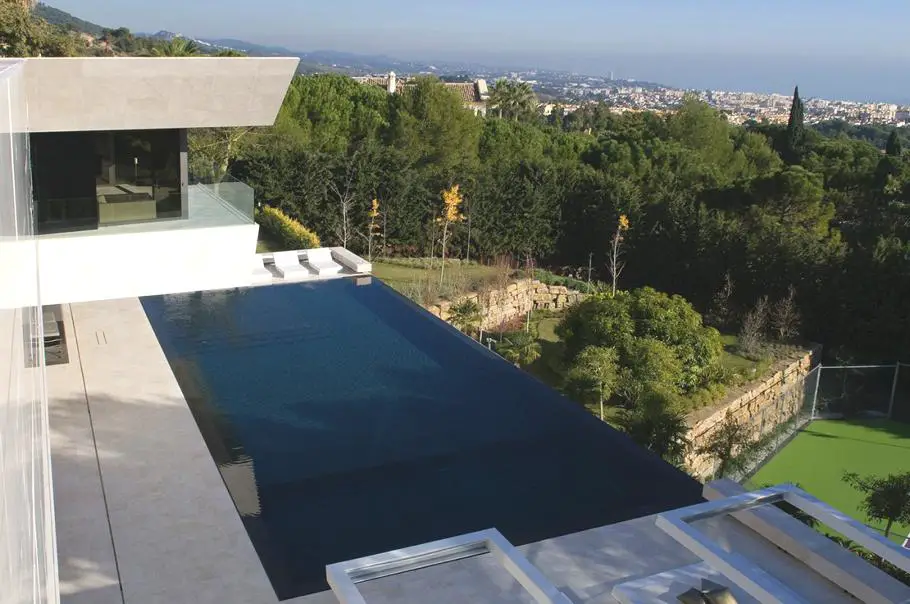 Madrid-based designers A-cero, Joaquin Torres Arquitectos, have completed this luxury house in Marbella, Spain. The luxury property is on the outskirts of Puerto Banús, a playground for the rich and famous, it is also one of the most exclusive developments in the Costa del Sol.
The plot where the project is located has a notorious slope that goes down to the South from street access. This determined the design concept to adapt the house to the environment and achieve excellent views of the Mediterranean Sea.
The north façade, includes the main access to the property. There is a path with geometric forms covered with a layer of water that goes to the main door. The windows are secondary on the aesthetics of the house, but really important to give light to the corridors and common areas.
All the rooms are located in the rear part of the house, with the porch, the pool, the garden and a tennis court. In this part of the house, orientated to the south, the black glass windows have been designed big to connect the outside with the inside.
Inside, the house has wide spaces, all of them modeled by natural light. The luxury property is developed in three levels:
The ground floor is the most open space and includes the living-room, kitchen, dining room, laundry and a small pantry.
On the first floor there are the bedrooms and a small office space. The lower ground floor is dedicated for relaxing, with a spa, indoor pool, gym and garage. The large central courtyards that articulate the property core give light to the house. Images courtesy of Jacobo España (Negami).
Love Interior Design & Exotic Travel? Follow us..
March 1, 2012 | Property | View comments