Luxury Brazilian House by Marcio Kogan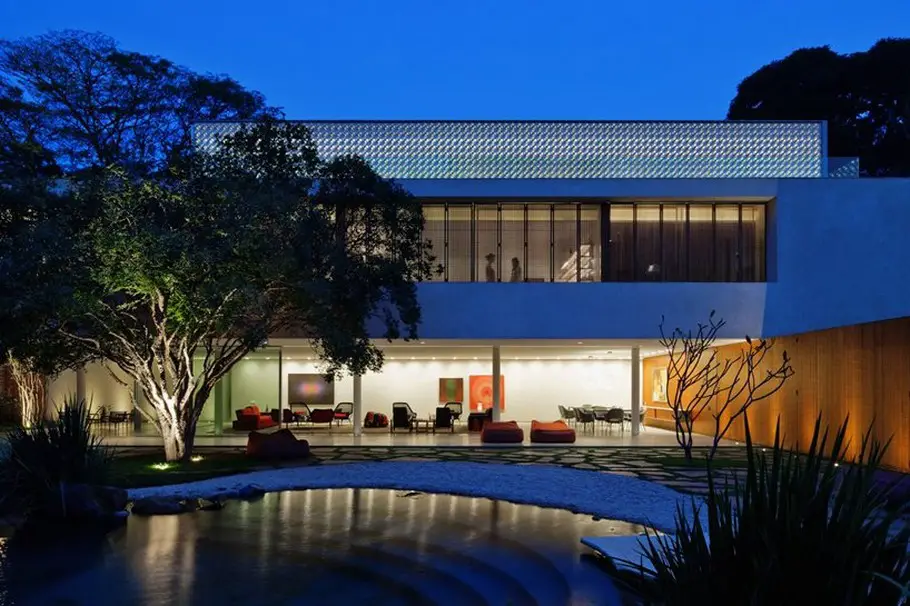 Brazillian architect Marcio Kogan of StudioMK27 has designed the Cobogó House; a piece of luxurious, natural and comfortable architecture.
The exterior of the house has been designed to incorporate privacy and serenity, and a natural atmosphere. Complete with wildlife in the garden, the residence also accommodates a private swimming pool, allowing the clients to enjoy relaxation and extravagance whenever desired and in the comfort of their own home. The garden is also accompanied with a patio area, providing potential for large social gatherings on beautiful, sunny days in the prosperous Brazilian climate.
The focal point of the exterior however, is the authentic sculptural, light-diffusing architectural screens by renowned American sculptor, Erwin Hauer. The screens, helping form the walls on the top level of the house, adjoin both efficiency and luxury, with a beautiful pattern yet a clever and unique shading device.
Extravagance continues throughout the interior of the house, with a delightful lavish feel applied to all furnishings within the home. A splash of colour is infused within an otherwise natural interior that matches the garden well, and the typically cutting edge Brazilian architecture really springs to life at night with the artificial lighting shining through the architectural screens, making the house stand out as a contemporary piece.
Love Interior Design & Exotic Travel? Follow us..
October 11, 2011 | Property | View comments