Luxurious Unique House by Silvestre Navarro Architects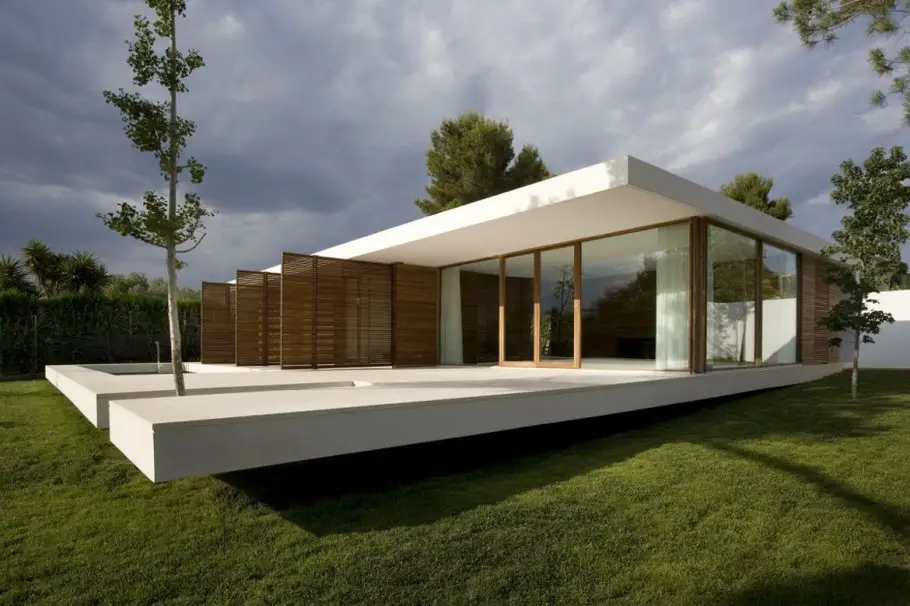 Silvestre Navarro Architects designed the SRR house for a carpenter in Valencia, Spain. The house cleverly utilises wood materials heavily here, creating an emphatic feeling for the client especially and making it a unique, personal home.
Set in beautiful, natural and green surroundings, the SRR house is eye-catching instantly. With wildlife encapsulating it and gorgeous views available, this Spanish home offers the best living available, intertwining this with modern architecture and vast spaces. Using a 'floating deck' concept, the Spanish architects have given the house an automatically contemporary feel, harnessing the concrete floor of the home visually and creating an original design. Wood is used also, and combines well with the stony-white concrete material. A beautifully executed pool is located on the back garden, and offers privacy or sociability, whichever is desired. This tranquil, relaxing aspect offers the house a further dimension of luxury.
Inside, this theme continues. Vast, white spaces are left for the client to do as they choose, while the darker wooden material adds a refined, sophisticated touch to the home. A heavy use of windows create natural lighting also making it an efficient residence, thereby more appealing. Upstairs, a unique open-plan device is utilised, enhancing the amount of space and light and creating bounds of freedom.
Love Interior Design & Exotic Travel? Follow us..
November 7, 2011 | Property | View comments