Lush landscaping at Lake House, Ahmedabad, India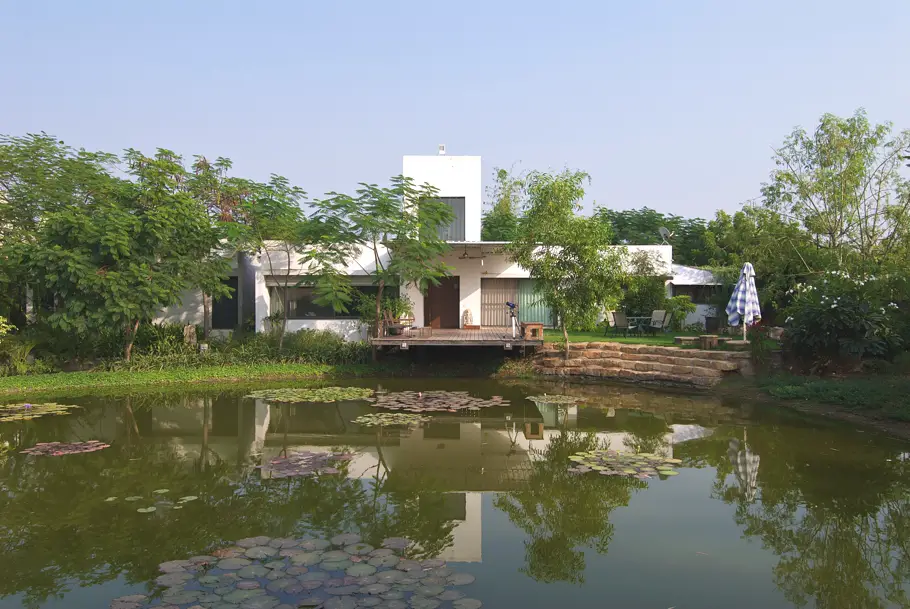 Ahmedabad-based architectural practice, Hiren Patel Architects, have designed the Lake House project. The luxury residence belongs to an artist and can be found in Ahmedabad, Gujarat, India. 
One approaches the house through lush landscaped walkways dotted sculptures, to reach a wooden deck, projecting on to the lake in front. The cantilevered deck is very much a part of whole experience of living in this house, as the dining area and kitchen both open on to it.
A double-height lobby with light streaming in through a skylight welcomes one in. The quality of light adds to the beauty of the space and highlights the paintings on the walls. Living room has full sized windows facing the lake, which visually connect the interiors to the lake and garden, while the large expanses of glazing allow plenty of natural light to pour in. The living room is connected to two of the bedrooms through a frameless glazed passage, which creates a lot of depth.
The client is an artist and art collector, and the house has been designed keeping his sensibilities and ideas in mind. The experimentation with different material finishes throughout the house creates an element of interest as one passes through the different areas.
Lush landscaping envelops the house, reflecting off the big lake in front of it. Simple geometric forms and the play of vertical and horizontal planes form the basis of the design, adding creative depths to the volumes and passages of the home. The façade, with a monochromatic finish in white combined with a rough RCC finish, allows the house to merge into the surrounding greenery and the natural environment.
Basic principles of Architecture have been applied to the house and use of art & art-objects make the spaces of 'timeless' quality.
Images courtesy of Sebastian Zachariah
Love Interior Design & Exotic Travel? Follow us..
June 21, 2013 | Property | View comments