Light, modern and minimalist styled apartment, Toronto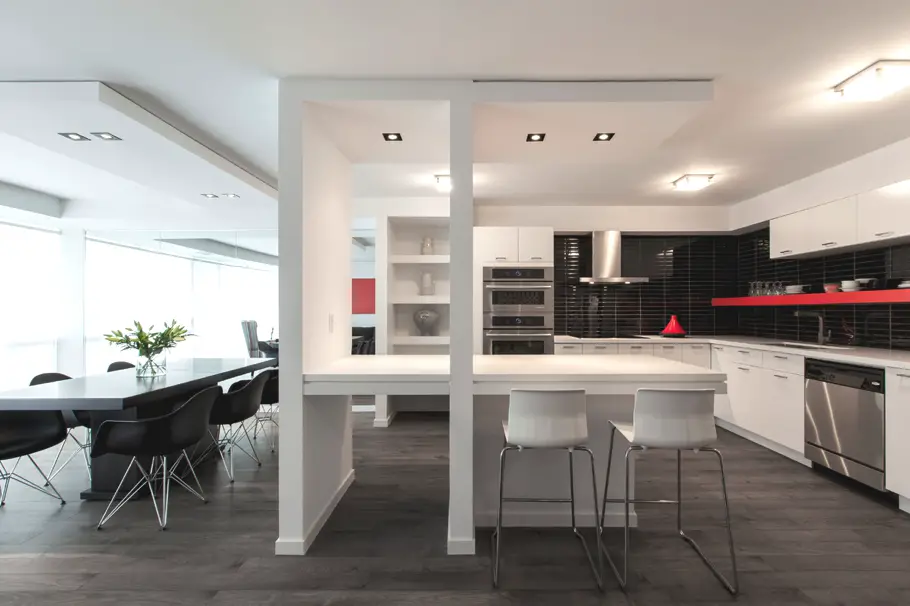 Toronto-based architectural practice, rzlbd, has designed the Elav Nest project. Completed in 2014, the light, bright, modern and minimalist styled apartment is located in Thornhill, Ontario, Canada.
Elav Nest is where Elaine and Avron live a humble yet inspiring life. This is another Torontonian condo reinvented, promoting the need for accessibility of design for everyone.
According to the architect: "Shortly after Elaine and Avron got married in 1959 in South Africa, they hired an architect to design their first home together. Fifty years, five children and 11 grandchildren later, when a flood caused half of their old lounge floor to collapse, they decide to hire another architect to transform their rather aged condo apartment in Toronto from its current state of decay to a re-invention of their life.
"Ever since their visit to a friend's glass house in Diamond Bay, Sydney, Elaine has longed for light and brightness, and Avron, for modernity and minimalism. When they met with with rzlbd team they shared their dream and the journey begins with a courageous de-cluttering of their 'stuff of 54 years of marriage'.
"The architectural transformation started with exposing the condo to its essential structural elements and rebuilding it with a simple goal in mind: to make the 'Elav' dream come true with what was available and affordable. Considering Elaine's hearing disability the apartment had to maintain an easy flow throughout the floor plan with minimum solid barriers, and it had to achieve a continuous line of sight to help Elaine and Avron communicate visually.
"With this in mind, all the unnecessary partition walls were removed in the previously long and dark corridor and replaced with a sliding door to Avron's studio and open shelves for Elaine's studio, inviting natural light from the south wall to travel inside the long corridor. A direct access from Elaine's room to the master bedroom along with the barrier free access to the en-suite and the walk-in closet keeps all three rooms connected with an uninterrupted flow. The integrated console table and bench in the main entry hall provide an easy stop and access point for Elaine's walker. More millwork and shelves were added to the other rooms to accommodate their specific needs. The heights of the millworks were adjusted to meet the accessibility requirements for Elaine. There is a designated studio space for Avron and a knitting room for Elaine. Some of the furniture was replaced and the rest was upcycled. The accent colours of the tiles and furniture pieces rhyme with Avron's paintings that decorate the walls. The transformation of the furniture to something 'not too cold' or 'too modern' created an ambience that is welcoming but can still make Elaine and Avron feel like they 'have achieved their dream'."
Images courtesy of borXu Design

Love Interior Design & Exotic Travel? Follow us..
August 5, 2014 | Property | View comments