Les Eleis shopping centre between sky & sea, France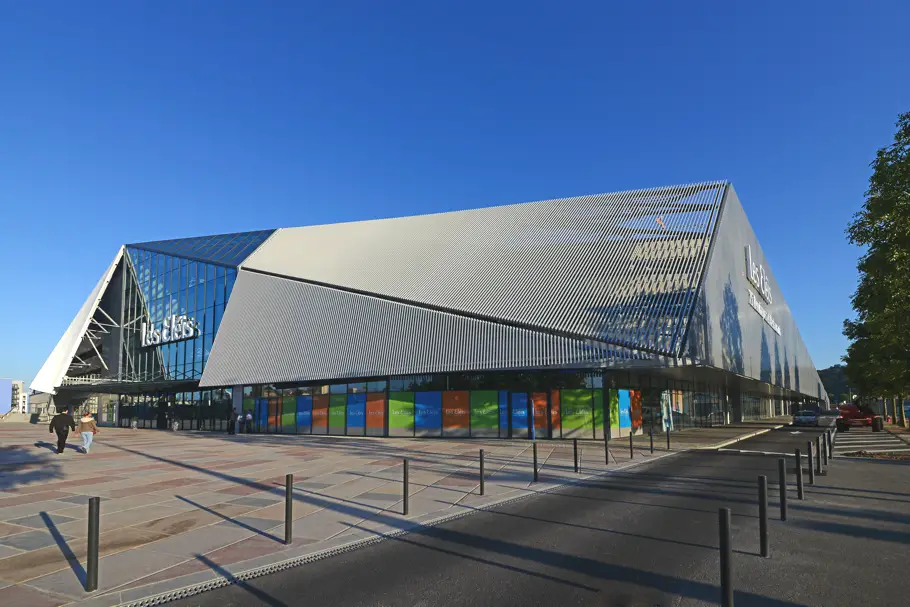 Paris-based architectural practices, Arte Charpentier Architectes and Calq Architecture have joined forces to design the Les Eleis shopping centre project. Completed in 2013, the refurbished shopping centre can be found in Cherbourg, France. 
This project for restructuring the existing shopping centre built in 1977 responds to issues surrounding urban and landscape re-qualification and fits within a plan to redevelop the east side of the city. More than a shopping centre, the project involved creating a new urban space that would attract people to meet and visit, and that contributes to the expansion and enhancement of Cherbourg-Octeville.
In addition, the project was intended to give a new image to the Bassins neighbourhood and create a point of linkage between the east and west sides of the city – between the Carnot neighbourhood and the historic city centre – so that the new neighbourhood would be integrated qualitatively and lastingly in the history of the city, its sailors, and its ships.

A tubular gauze to capture light
According to the architects: "Starting from the observation that retail has no pre-established form and wanting to break away from the constraints of an existing building that no longer fulfils its aesthetic and functional role, we created a "ship" designed for harmonious integration into the vast landscape of rock and sea.
"Our restructuring and expansion of the existing commercial hub is a play on light, a series of folds, grids, and reflections, a custom-made cladding in which the constantly changing sky is mirrored. The building's skin comes alive thanks to a semi-opaque fabric composed of thin aluminum and metal tubes that capture and interact with the light.
"This exterior cladding offers depth in the reading of the façades, answering the criticisms often made about the opacity of the original building's concrete wall.

A city between sea and mountains
"A new, asymmetrical silhouette – sometimes transparent, sometimes reflective – emerges, in dialogue with the Roule Mountain, and in harmony with the vista of the surrounding natural landscape in the background. A sign of the new in the city, the strength and modernity of its architecture speak of the future. Moored to the docks, in pink granite in the midst of the ships, at night it metamorphoses and sails away, evoking the idea of travel."
Images courtesy of Alain Caste
Love Interior Design & Exotic Travel? Follow us..
October 23, 2013 | Property | View comments