La Brea Bakery: An artisanal LA bakery with simple design
Los Angeles-based architectural practice, SFJones Architects, has designed the La Brea Bakery project. The stylish bakery is located in Los Angeles, California, US.
"It's all about the bread," said John Yamin, CEO and president of ARYZTA North America, La Brea Bakery's current owner. For the new flagship location, he requested a 'jewel case' to display the iconic bakery's wares. Stephen Francis Jones of SFJones Architects, Inc. interpreted this challenge in a subtle, sophisticated design that melds the iconic bakery's 25-year history with an artisanal feel for the warm browns of the baked goods that changed the way Los Angeles eats.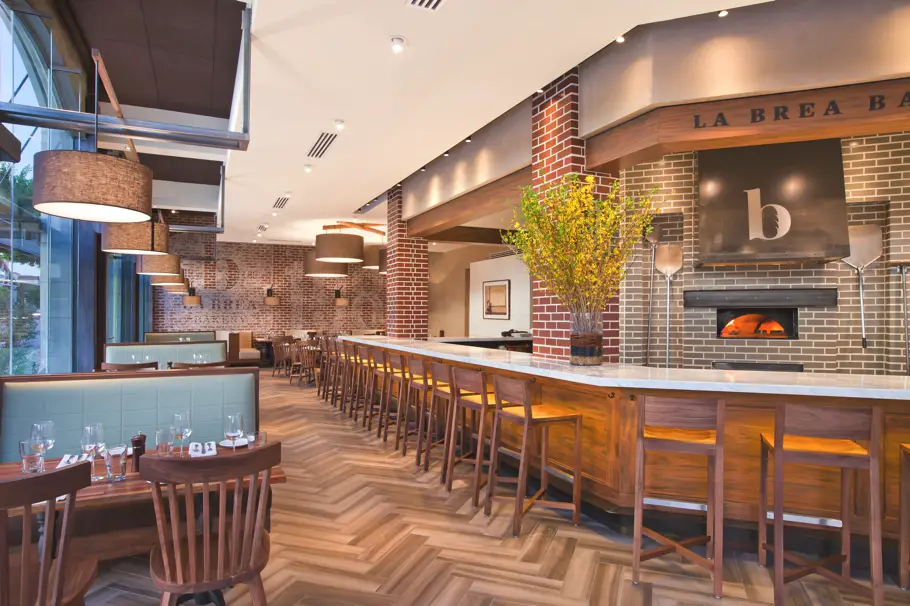 Throughout the new glass-and-brick location, SFJones evoked a sense of openness and multiple layers of activity. Beneath the wood trellis that defines the bakery area, the 'jewel case'—a 35-foot-long illuminated display case—allows patrons to survey a luscious array of pastries, focaccia, sandwiches, and other freshly prepared items.
A special fresh-baked bread is featured every day in the 4,750-square-foot restaurant, offering a peek at the baking process and its irresistible aroma. Above adjustable cubbyholes housing the diverse array of breads, wooden blocks are inscribed with the original La Brea name tags.
Butcher block dining tables—made of different varieties of reclaimed wood, echoing the bakery's historical flavor—incorporate the variegated shades of bread crust, from pumpernickel to sourdough. Even the wood frames and white tufted seating of the booths along one wall echo the look of a freshly bakedloaf that's been cracked open, with its brown crust and fluffy interior.
SFJones and Hornall Anderson collaborated in the seamless rebranding of architecture and graphics. The new location seamlessly melds the new lowercase 'b' logo—prominently displayed at the entryway on the blackened steel oven hood—with La Brea's familiar "bread dough" logo, which reappears above the display case. Artifacts from the original bakery—including a photograph of the famous window with shades—recall the homey ambiance beloved by longtime patrons. Distressed white hand-painted supergraphics on the red brick interior wall commemorating the bakery's 25-year history suggest the look of an urban "found wall" from 1989. Fabric seats on the booths alongside the windows duplicate the exact shade of celadon green on the windowsills of the original bakery.
Red birch creates the bright 'morning' feel of the bakery's grab-and-go morning service, while walnut trim and wrought iron light fixtures establish a more sophisticated ambiance at lunch and dinner for the 100 interior seats. The herringbone patterned tile floor echoes the warm brown of the walnut wood. An additional 25 sidewalk seats are covered by light-diffusing canopies.
Images courtesy of the architects
Love Interior Design & Exotic Travel? Follow us..
December 12, 2014 | Property | View comments