JW3 Jewish Community Centre by Lifschutz Davidson Sandilands
London-based architectural practice, Lifschutz Davidson Sandiland, have designed the JW3 Jewish Community Centre, which opened to the public in September. The new centre can be found in London, England.
Inspired by the successful Jewish Community Centre (JCC) of Manhattan, JW3 has been ten years in the making. The newly constructed £12m building on the Finchley Road in Hampstead is open to anyone with an interest in Jewish life.
Funded by Dame Vivien's Clore Duffield Foundation and other private donors, JW3's vision is to be at the heart of a unified, diverse community, with a programme inspired by and engaged in Jewish arts, culture, learning and life.
JW3 is located, as its name suggests, in NW3 on the route between central London and the city's Jewish heartlands to the north. Sitting directly opposite the Camden Arts Centre, the venue establishes a lively new cultural hub for north London.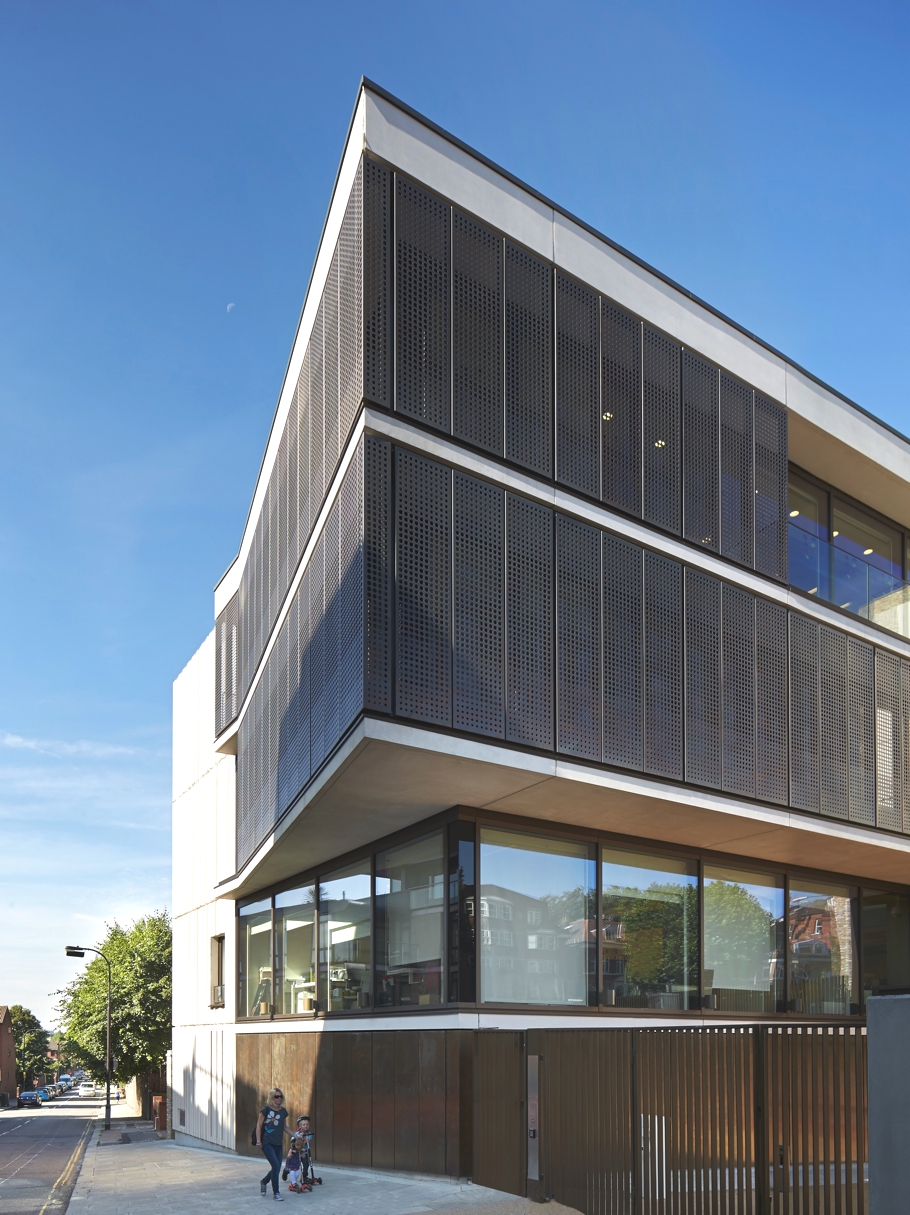 The purpose built 35,000 sq ft building is made of durable materials – brick and (cast) stone, detailed with brass. Lifschutz Davidson Sandilands' design is composed of a number of simple architectural set-pieces – the tower and an elegant pavilion accessed by a bridge that spans a sheltered piazza – and is a composition of simple rectilinear forms that provide great flexibility, creating a loose-fit structure to respond to the tests of time.
To support JW3's ambitious programming, the building features diverse facilities arranged hierarchically over four storeys, with the most public at ground level spilling out onto the piazza, which will host food markets and outdoor cinema as well as ice-skating during the winter.
The heart of the building is Zest, JW3's lower ground floor restaurant, bar and café. Run by award-winning Ottolenghi-trained chefs, Zest will provide delicious Modern Jewish cooking throughout the day, from coffee and freshly baked pastries in the mornings to multi-course al fresco dinners on the piazza at night.
Next to the restaurant is a double-height, multi-purpose hall. Retractable bleacher seating creates a 268-seat auditorium for performances and events, whilst the space seats 200 in banquet mode for public and private functions. On the other side of the café is a 60-seat cinema that will host film festivals and talks.
The first floor reception is reached from Finchley Road via a bridge over the piazza. On the mezzanine and first floors are a learning resource centre, a dance studio with sprung floor, drama and art rooms, multi-functional education spaces and a fully equipped demonstration kitchen.
The top floor of the building is occupied entirely by the day nursery, with its own dedicated outdoor play space.  Run by Active Learning, the nursery provides 86 places for children aged six months to five years.
JW3's launch season's programme of 1,300 events and activities between October and December includes instantly recognisable names such as Ruby Wax, Zoë Wanamaker, Edmund De Waal and Kevin Spacey.
Images courtesy of Hufton+Crow
Love Interior Design & Exotic Travel? Follow us..
October 17, 2013 | Property | View comments