Hillside House by Gass Architecture Studios, South Africa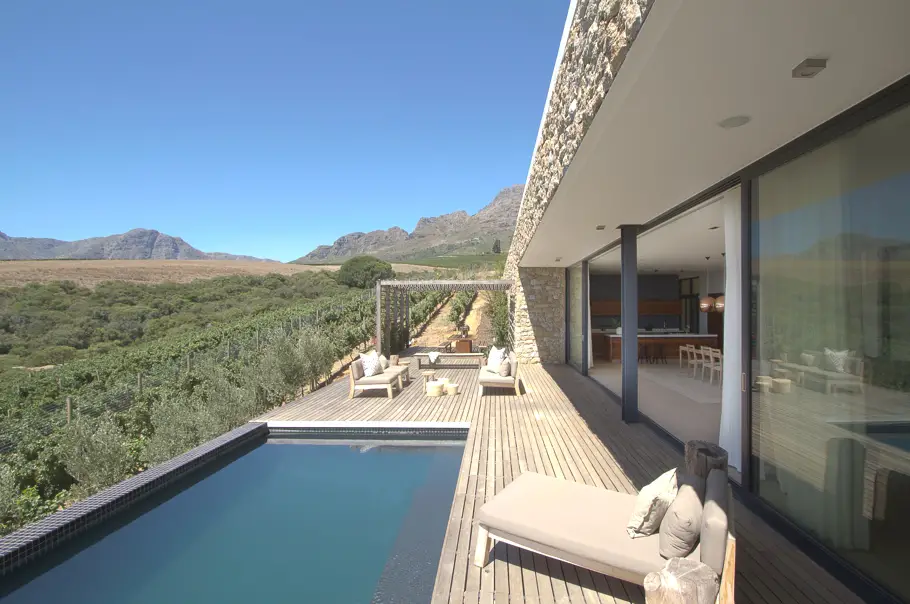 Johannesburg and Cape Town-based architectural practice, by Gass Architecture Studios, has designed the Hillside House project. Completed in 2013, the luxury family home is located in Stellenbosch, South Africa. 
According to the architects: "Situated on the slopes of the Helderberg Mountains in Stellenbosch and nestled between rolling vineyards, a koppie (small granite hill) and a river below, Hillside is simultaneously arresting and juxtaposed as fits flawlessly into its surroundings.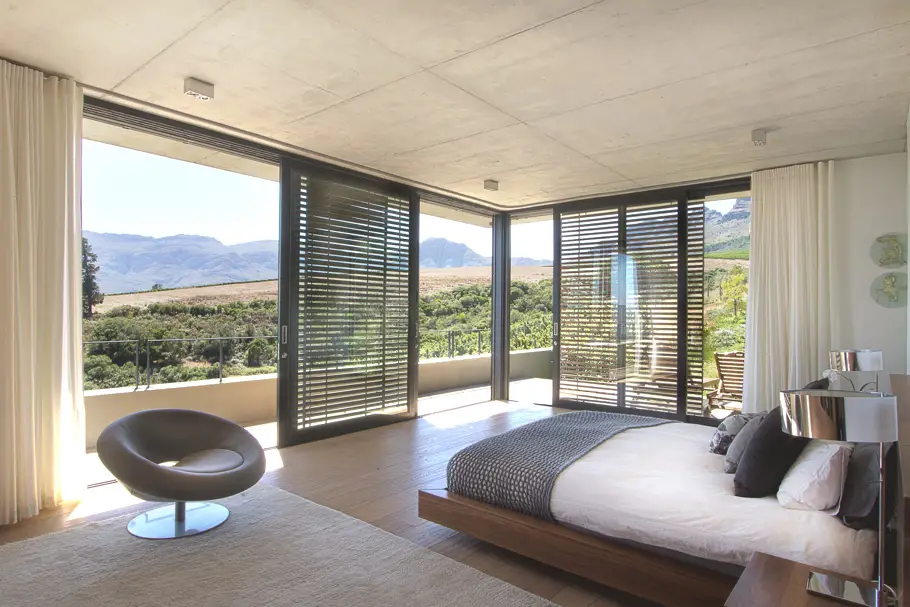 "You approach the house up a steep driveway meandering through the vineyards. The driveway and the forecourt are a modern interpretation of a traditional farmhouse. This is characterised overall by the planning of the house's location but also more specifically by the gravel driveway, expansive forecourt, drive-in open garaging reminiscent of a barn and water feature evocative of an animal's drinking trough. This modern drinking trough is then fed by a modernist architectural waterspout from the roof of the house.
"These farmhouse characteristics are not just visual either. Other senses are also stimulated: your scent is stimulated by the smells of the farmlands and rural surrounding as is your auditory sense when you hear the gravel beneath the car's tires.
"There is a genuine sense of arrival every time you visit Hillside. Access to the front door is gained from a double-sided staircase from left or right of the gravel arrivals courtyard. This short stairway is a nod to the Colonial influence of traditional Cape vernacular typical to architecture seen in the Cape (many buildings in and around Cape Town like The Castle of Good Hope, the City Hall and Tokai Manor House, for example, boast this kind of double-sided arrival staircase)."
Images courtesy of the architects
Love Interior Design & Exotic Travel? Follow us..
January 11, 2015 | Property | View comments