Haus Brunner by Norbert Dalsass, South Tyrol, Italy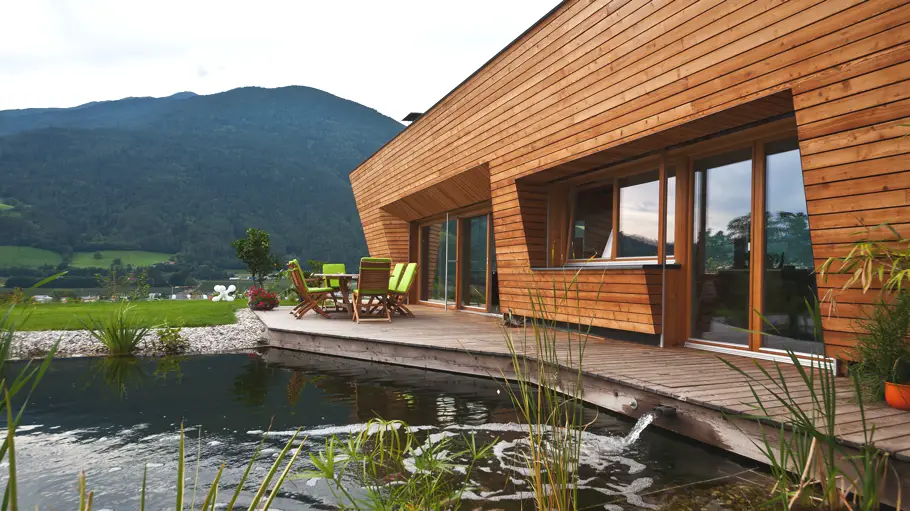 Brixen-based architectural practice Norbert Dalsass has designed the Haus Brunner project. The contemporary family home is located in Vahrn, South Tyrol, Italy.
The property is located in an insightful and sensitive natural landscape. The vineyards cover the area along the western slope of Eisacktaler Valley near Brixen (Bressanone) to the north.

What was the biggest challenge during the project?
It seems simple, the peripheral environment is pure nature, but to go in dialogue with the magnificent vineyards around was the challenge to win, a victory for both sides. It is not only the external appearance, but also the fact that the owner wanted the house to be made from the materials in locus. The stones you can see come out from the excavated material. The genius loci in an esthetically aspect was considered as well as in ecological terms. The house produces more energy than it consumes.

How do you describe the overall design of the project?
The project was based on the family's demands and need, as well as the landscapes requests including  the climatic aspects as well as to the energetic aspects. The form was born out of all these factors. We had to ensure the facade of the property was protected properly as the materials include wooden cladding. The inclination of the facade is a way to protect the wall from the direct rain. We have rooms that are partly underground and we had to balance out the light so that the external stone walls form a pleasant view from inside.

What stands out the most for your project?
It seems that just the inclination of the facade formed the most apparent element in the composition with the stone walls that continue out to the the vineyards. The softness of the kind of embedding in the natural context is the most outstanding point of force of this project.

What current design trends did you incorporate into the project?
In our region to build with wood as a construction material as well as a surface cladding, is a traditional way to build houses, but it is a current design trend too. Our proposal was to follow traditional knowledge, but also to include contemporary ways of building, ways of living and ways of thinking.
Images courtesy of Arnold Ritter for Norbert Dalsass
Love Interior Design & Exotic Travel? Follow us..
March 5, 2015 | Property | View comments