Greek Island attracts Brits looking to invest in holiday homes
Kea (also known as Tzia) is part of Greece's archipelago of Cyclades islands, but is more remote than the better-known tourist hotspots of Mykonos and Santorini. However, following the lead of savvy Athenians (locals always know best), this 132 sq km bolt hole has recently started attracting foreigners looking to buy summer houses with a difference.
Inaccessible directly from Athens (you have to take a one-hour ferry ride from Lavrio on the mainland, which is 40 minutes from the capital's airport), the unspoilt, picturesque location is proving the secret getaway of choice for well-healed Greeks. With growing media interest, the British are beginning to discover it too.
With a population of just under 3,000 inhabitants, its relaxed, sleepy way of life, rich in authentic cuisine, meandering mules paths perfect for long walks, and tranquil beaches, is quietly proving a lure for those looking to set up a base in the Greek islands.
While the Aegean waters that surround it attract divers, who come to swim among the numerous shipwrecks, which include the HMHS Britannic, sister to the Titanic, the landscape is rolling hills of vineyards and almond groves.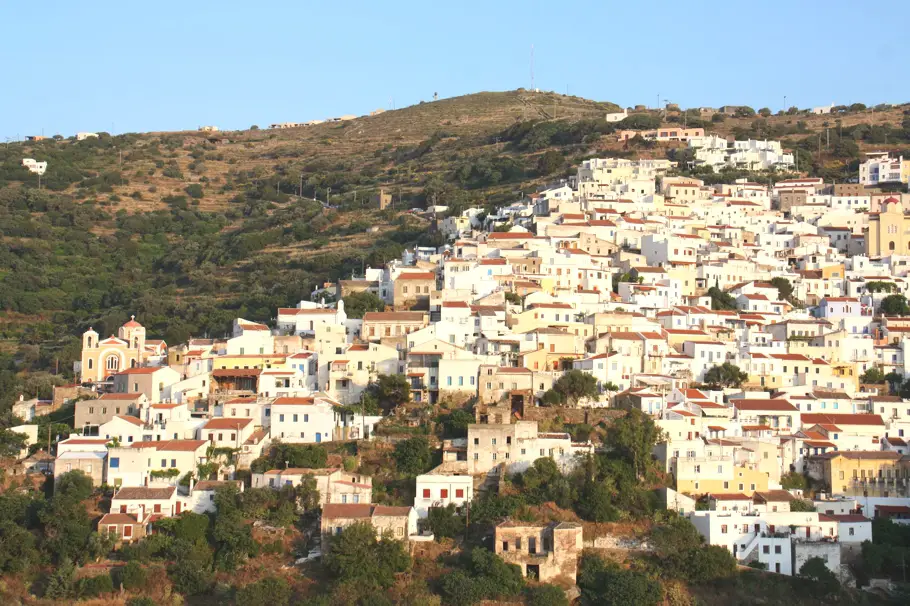 Unlike the familiar white sugar-cube architecture of neighbouring islands, the diminutive capital, Ioulis (Khora, locally), is a pretty village of Mediterranean-style terracotta-roofed villas built on to the hillside. It's a peaceful place too, as cars can't be driven into the centre. Scattered across the island are ancient ruins, crumbling chapels, charming tavernas, oak forests, quaint harbours and hidden coves, perfect for clandestine swims and picnics.
And thanks to ambitious, forward-looking architects, there has been a revival in traditional construction methods (think unpainted natural stone and raw timber, and sensitive integration with the natural surroundings) but with a trend-setting contemporary vision of Greek living.
The recent increase in demand for summerhouses on the island justifies the work of renowned architect and developer Christos Vlachos. Vlachos follows a long-standing tradition of land and property development on the island of Kea, started by his father in 1964. Vlachos has built more than 100 tailor-made holiday houses in Kea and has become famous for his futuristic glass structures, allowing breath-taking sea views from every room as well as his minimalistic interiors with clean lines, airy spaces and open planes of sight. Furthermore, he recently contributed into the creation of new legislation regarding "cave houses", which are houses carved into the land, thus minimising human influence on the landscape while retaining panoramic sea views.
A sure sign of Kea's potential as the new destination for part-time expats, Dolphin Capital Investors is planning to manage Greece's second top-end Aman hotel the first being the Amanzoe in the Peloponnese, which opened in 2012.  At a cost of 60 million euros, the project will be designed by John Heah and positioned on a 65-hectare area with a private beach club. There is surely no better hidden gem in all of Greece than the beautiful, intriguing island of Kea.
Images courtesy of PR Media Co
Love Interior Design & Exotic Travel? Follow us..
June 26, 2014 | Property | View comments