Gorgeous modern loft apartment by 2B Group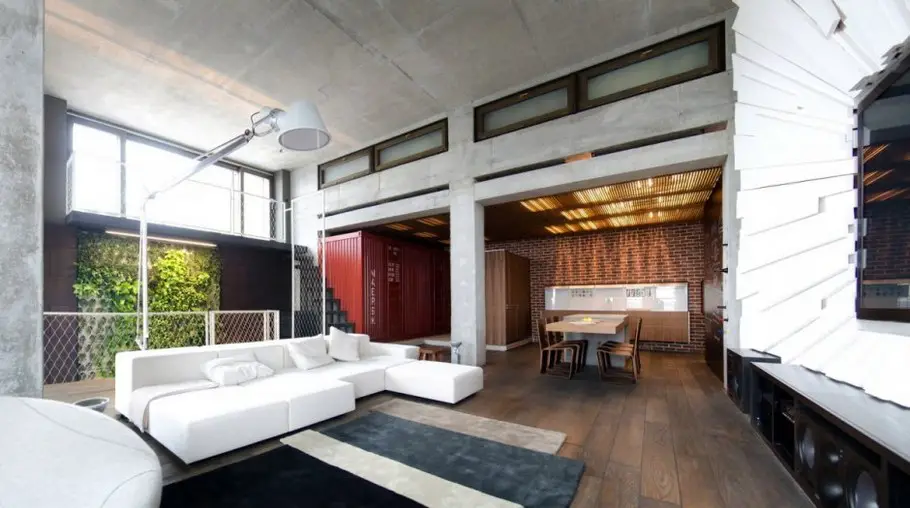 Slava Balbek of 2B Group has sent us images of a top floor apartment they have designed in Kiev, Ukraine. This ultra-stylish, elegant and time-consuming piece of architecture is phenomenal in its execution as it encases comfortable and luxurious living with efficiency and modernity.
The apartment is a spacious delight – almost like a new canvas from which 2B Group have worked from. With a refined palette of wonderful materials such as metal, concrete and wood, the house is not short on modern aspects and sophistication. Vast living areas and dining areas are brilliantly styled, while the kitchen is fitted with up-to-date appliances, adding an efficient edge to this brilliant piece of interior design.
The interior continues this fashionable trend, with modern facades such as the faux boulder acting as a seating space, enhancing the unique, contemporary and luxurious feel of this beautiful apartment. Original modern art is also seen either hung from the walls or as part of the wallpaper; a distinctive attraction which really sets this apartment above its counterparts in terms of interior design.
Perhaps the most glorious aspect of this apartment is the sky-top floor. Including beautiful panoramic views, comfortable seating and a unique experience, this feature really puts this apartment loft amongst the highest echelons of interior design.
Complete with many spacious bedrooms, an efficient, excellent bathroom and plenty of living spaces fit for sociability or privacy, this Ukraine apartment exudes luxury living with a unique edge.
Love Interior Design & Exotic Travel? Follow us..
November 23, 2011 | Property | View comments