Glamorous Interiors at Lucerne House, New Zealand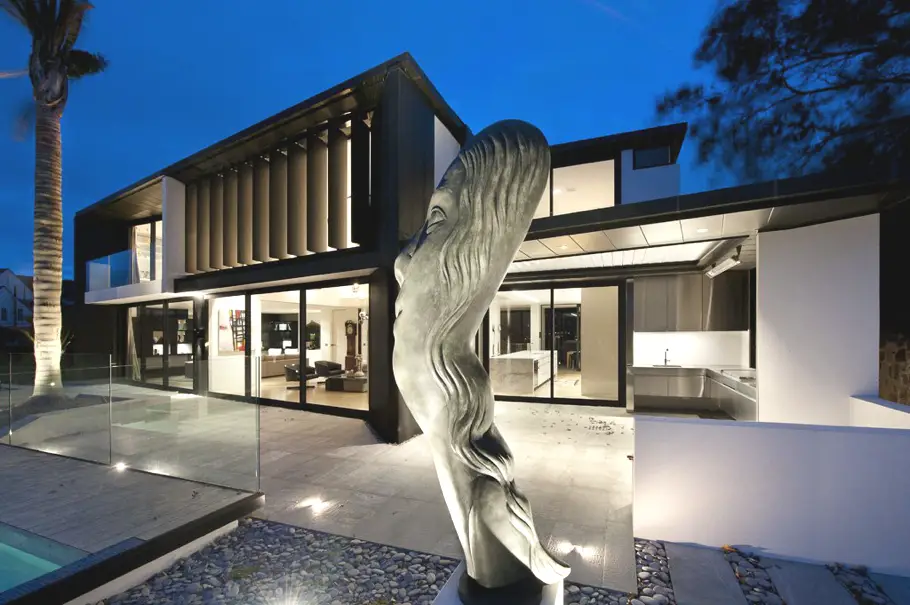 Auckland-based design studio Daniel Marshall Architects  has completed the Lucerne House project. Completed in 2012, the luxury property is located near an ancient crater in Auckland, New Zealand.
According to the architects: "Sited on the edge of the ancient crater that embraces Orakei Basin with extravagant views to inner Waitamata harbour and Auckland city.
"The brief was very specific, with garaging a number of classic cars a primary concern.
"Daniel's design response was to wrap the garaging around a central 'pergatoria' – a term coined by the italian architect Terragni for an entry courtyard. The garage doors detailed to disappear into the adjoining cedar exterior.
"This area also incorporates the entry, conceived as a three level atrium that entices the visitor up to the living level and to the eventual revelation of the views of the Auckland landscape beyond. The curved edge of the infinity pool echoes the form of Orakei basin and draws the sea view closer to the contemporary New Zealand house.
"The aesthetic and detailing of the house is intended to be quietly sophisticated using a limited palette of materials.
"A number of bespoke items designed specifically for the contemporary New Zealand house by the architects enhances the glamour of the setting – these include a chandelier with hand blown glass spheres by Katie Brown, a front door handle crafted by David White and the panels behind the dining table painted by Daniel Marshall."
Images courtesy of Emily Andrews and Ernie Shackles.
Love Interior Design & Exotic Travel? Follow us..
November 4, 2012 | Property | View comments