Funky Athens hair salon designed with a twist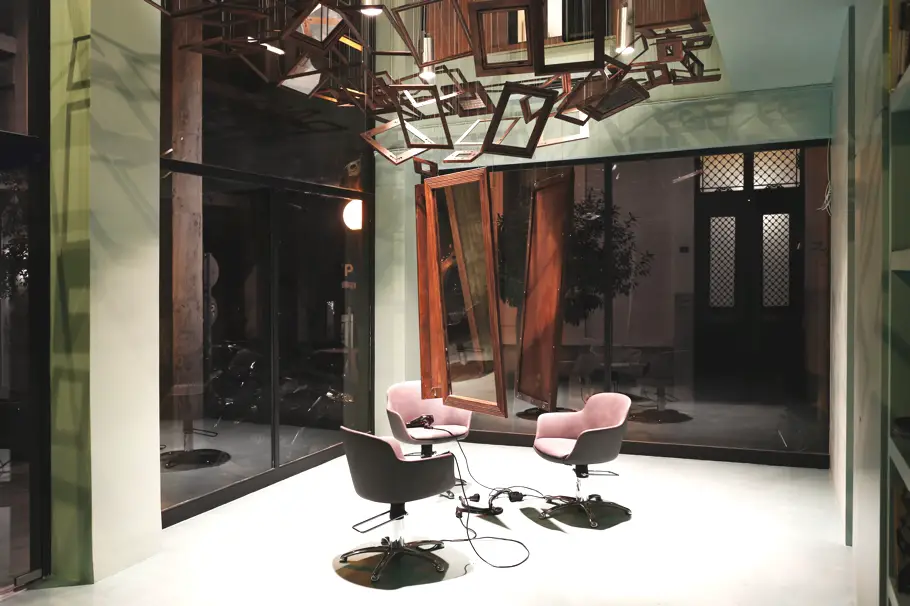 London-based architectural practice Bureau de Change has designed the Talkin' Heads project. Completed in 2015, the former historical building has been converted into a modern hair salon in Athens, Greece.
The architects have created a new more communal and sociable salon experience. The space has been almost treated like a theatre stage and is formed by 130 frames that are suspended from the ceiling and drop towards the centre.
According to the designers: "The exposed corner-plot location of this old pharmacy in an affluent Athens shopping district inspired a re-working of the traditional hair salon.
"Glazing on two sides made the typical wall-facing format of salon seating restrictive. Instead the design explored using this unimpeded view into the space in a different way – as though it were a small stage set and for the project to be an installation rather than an exercise in interior design.
"The 50m2 space is split between the main cutting floor (the stage) and a mezzanine space (back of house). The design adopts a trio of inward-facing seats each paired with a large ceiling-hung mirror. Clustering the seats in this way provides a more communal, sociable salon experience, encouraging interaction between the stylists and customers.
"From the ceiling hang 130 individual picture frames. Fabricated from dark timber profiles (moldings, architrave, cornicing and skirting), the frames range in various sizes.
"Appearing as though randomly placed, the frames are carefully hung from 1mm thick steel wires, each tilted to form a suspended landscape. The frames spread from all four corners of the salon, before appearing to swoop downwards to meet the three customer mirrors. Whilst many are left empty, some are filled with mirrors and angled to provide that all-important 'back of head' view.
"Simple lighting above the installation means that the frames cast dramatic silhouettes on the space beneath. These silhouettes change and distort depending on the time of day and direction of the sun's path across the salon. Above the clients, three spotlights direct focus back on to the hair cutting experience and provide a flood of light over the hair crown of the customer, drawing them into the theatrical feel whilst in practical terms improving visibility for the stylist.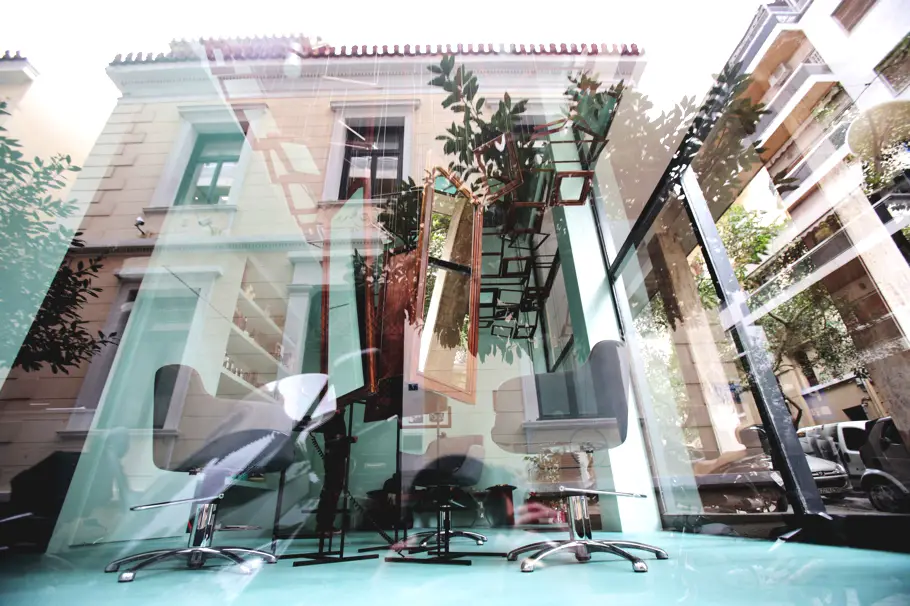 "The 520 wires that hold the frame landscape create a mist-like presence that hovers just below the ceiling. The wires gently sway in response to movement in the space and customers entering the salon."
Images courtesy of Olga Koutantou for bureau de change
Love Interior Design & Exotic Travel? Follow us..
April 13, 2015 | Property | View comments