Europe's largest covered market receives makeover
Rotterdam-based architectural practice Liong Lie Architects has designed the Gold Souk project in collaboration with Leaders Against Routine. Completed in 2015, the Bazaar is located in Beverwijk, The Netherlands and is considered one of Europe's largest indoor markets.
In Goudsouk (meaning Gold Souk), the jewellers of the Bazaar will show their treasures to the public. The building gets its shape from the 'raw' shape of the precious metal: a lump of gold.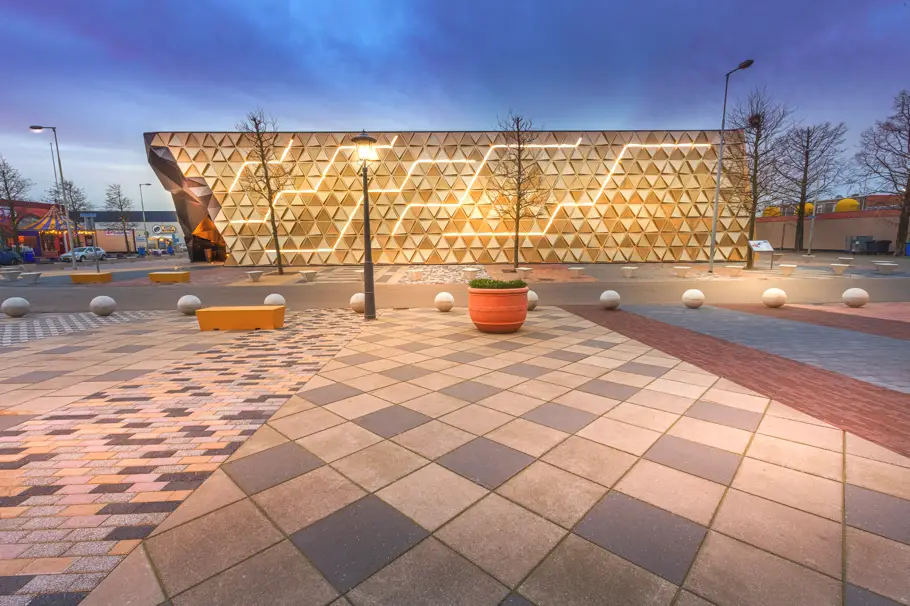 The new market building has been designed in the raw shape of a lump of gold and will house 'treasures' from various jewellers and goldsmiths, who gather each weekend along the Goudstraat (Goldstreet) opposite the Eastern Market.
According to the architects: The exterior is defined by a 35 meter long facade that explains the visitors in a glance what they can find here: all that glitters is gold! The entrance is clearly marked. Here, the 'nugget of gold' has opened up to provide access to the 'cave' where the real golden treasures are safely displayed.
"Contrary to the exterior of the building, which is very visible and prominent, the design of the interior is very modest. Everything is black, even the reflective floors and ceiling. In combination with the lighting, the attention is directed to the shining of the displayed jewelry of the gold dealers! And in the end, that is what it's all about.
"The building and its surroundings are designed in such a way with safety and 'crash' protection as part of the design. The inverted pyramids aren't just functional – because of their triangular form they also enhance the design of the facade and match with the character of the Goud souk."
Images courtesy of Liong Lie Architects for Hannah Anthonysz
Love Interior Design & Exotic Travel? Follow us..
March 31, 2015 | Property | View comments