Custom designed stair feature at Residence Nguyen, Montreal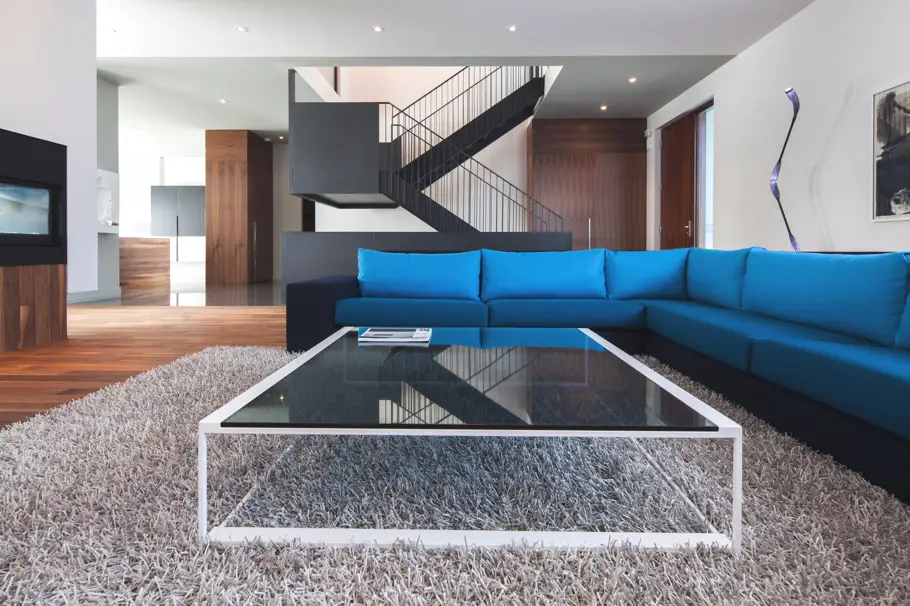 Montreal-based architectural practice, Atelier Moderno, have designed the Residence Nguyen project. Completed in 2013, the luxury family home can be found in Nouveau Saint-Laurent, Montréal, Canada.
The house pivots around a custom designed stair – the lone metallic object in an otherwise ethereal and pure universe. The rail is composed of repeated steel elements with alternating dimensions, creating a vibrating effect as one ascends or descends. Upon entry the visitor is promptly orientated by this sculptural feature. While slyly revealing the kitchen between its steps, one is lured inherently into the living room through a chromatic decompression.
The main living space is closed on one end by the suddenly opaque surface of the stair segment. The room is divided longitudinally by a suspended volume that is pierced from below by a hearth that emerges from the floor. The dining room is tucked into the resulting intimate space on the reverse side of the block. From this perspective the stair landing appears weightless, and interacts with the graphic presence of the hearth.
The kitchen is detached from this main living area, yet the walnut mass of the island establishes a visual connection with the base of the hearth in the living room, also clad in walnut. Furthermore, the transparency of the stair along this axis permits visual contact with the rest of the main level.
The basement becomes a natural extension of the main floor due to the large central opening that houses the stair. On the upper level, a master bathroom extends from the bedroom of the couple. The long plan of the bathroom is segmented by usage, exuding a clinical-clean and soft-healing sentiment respectively.
An arrangement of furniture, designed primarily by Atelier Moderno, completes the interior design of the living environment.
Images courtesy of Stéphane Groleau
Love Interior Design & Exotic Travel? Follow us..
May 28, 2013 | Property | View comments