Cumbres Doce by SOSTUDIO / Sergio Orduña Architects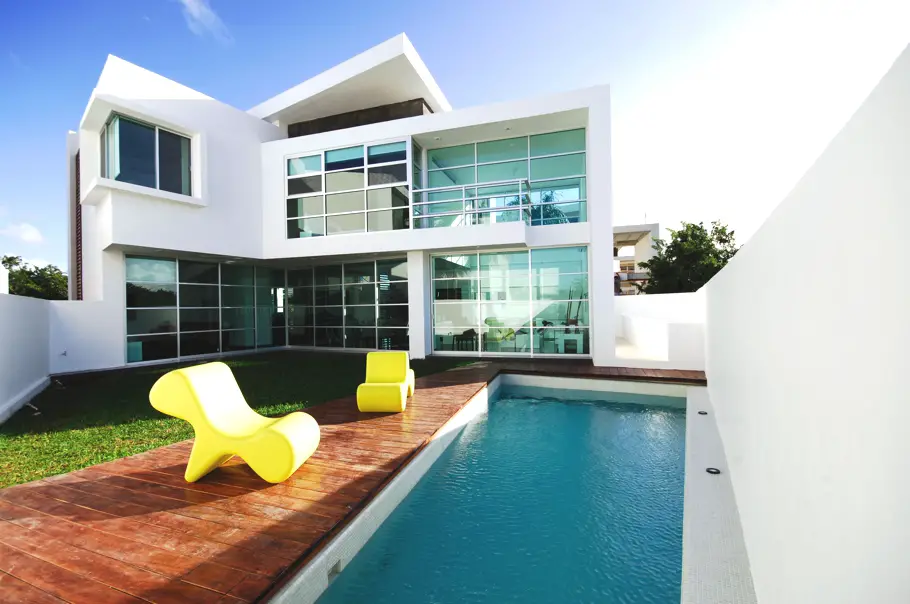 Cancun-based architectural practice, SOSTUDIO / Sergio Orduña Architects, have designed the Cumbres Doce project. The five minimalistic properties can be found in a busy area of Cancun, Mexico.
According to the architects: "Cumbres Doce is an investment project located on a great boom-zone in downtown Cancun.
"It consists of five separate houses, surveillance booth and access control to the housing develoment. The biggest challenge of the project was the location of the houses on a long strip of land which has a very narrow front and an extends deep with neighbouring properties on its three sides. The solution was the construction of the main floor on the first level, and leaving services and wares at street level. By doing so the main floor extends itself all through the land width, making bridges above the roads inside the whole development. The location of the floors on the project are turned on so to look for the best orientation, assuring sunshine by the pool and garden and a natural crossed ventilation when opening the large windows."
The totally white facade of the building and the large floor-to-ceiling windows give the property a contemporary look. The outdoor pool looks very stylish with house as its backdrop.
The interior design of the homes is open plan, spacious and bright. The properties ooze minimalism chic.
Images courtesy of Daniela Rangel
Love Interior Design & Exotic Travel? Follow us..
September 12, 2013 | Property | View comments