Contemporary studio apartment in Riga, Latvia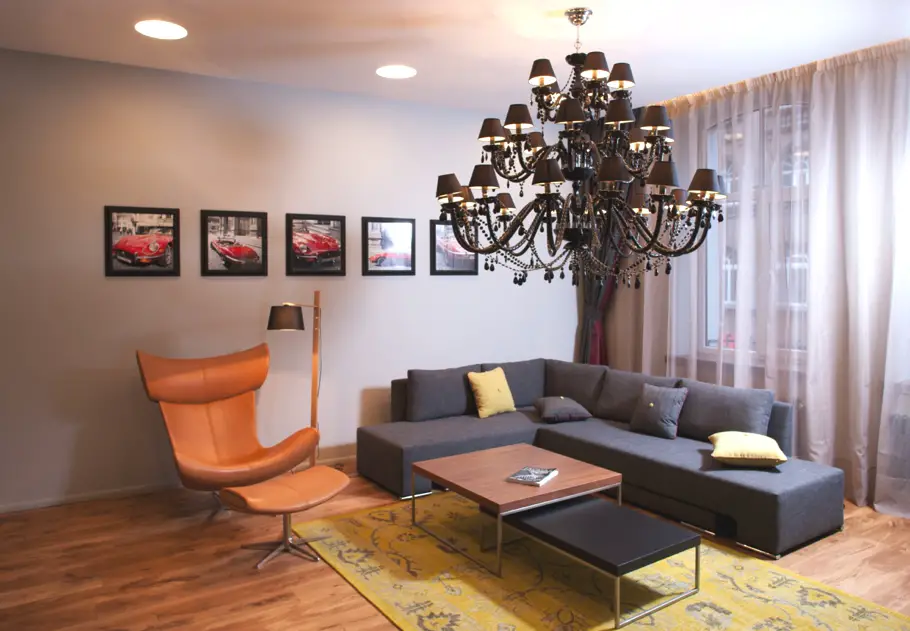 Luxury interior designer Eric Carlson of A DIZAINS has designed an apartment with a sumptuous blend of both classic and modern twists. Completed in 2012, the contemporary property can be found in Riga the capital city of Latvia.
Situated within a 19th-century building, lies a divine studio apartment with a historic and retro filled flare, carefully assorted so that the apartment would not lose its historical "breath" as well as its modern take on prosperous living. One important aspect of the contemporary Latvian apartment is the sustained spaciousness, despite its small area, so that it optimises the maximum capacity for storage.
The living area provides an assortment of classic furniture including features such as the gothic style chandelier and wooden flooring, which we love at Adelto. They are then contrasted with an array of retro and modern qualities such as the framed sports cars aligned on the wall, as well as a flamboyant rug, slick tanned leather chair and a grey modern style sofa.
The kitchen is predominantly coated with a silver and grey theme in its futuristic nature, with touches of red here and there. A drooping UFO-like light strikes you first as it hangs directly above the table. You are reunited with the wooden flooring and red sports cars. The blend of silver and red provides a very artistic theme to the kitchen. Although this room is minimalistic, its is highly visually stimulating.
The bathroom design continues with the same colour scheme as the kitchen. The walls are tiled with a light grey, which is contrasted with a dark grey tiled floor. The wall then bursts into life with blues and reds surrounding the towel rail, and sink, to again provide a visual delight, which isn't too overpowering. To give a classic look to the bathroom, certain appliances are created out of a delightful dark wood to match with both the retro and gothic style twist this apartment provides throughout.
Images courtesy of Didzis Grodzs and words by Isaac Jackson-Carter

Love Interior Design & Exotic Travel? Follow us..
January 14, 2013 | Property | View comments