Contemporary retail space renovation in Madrid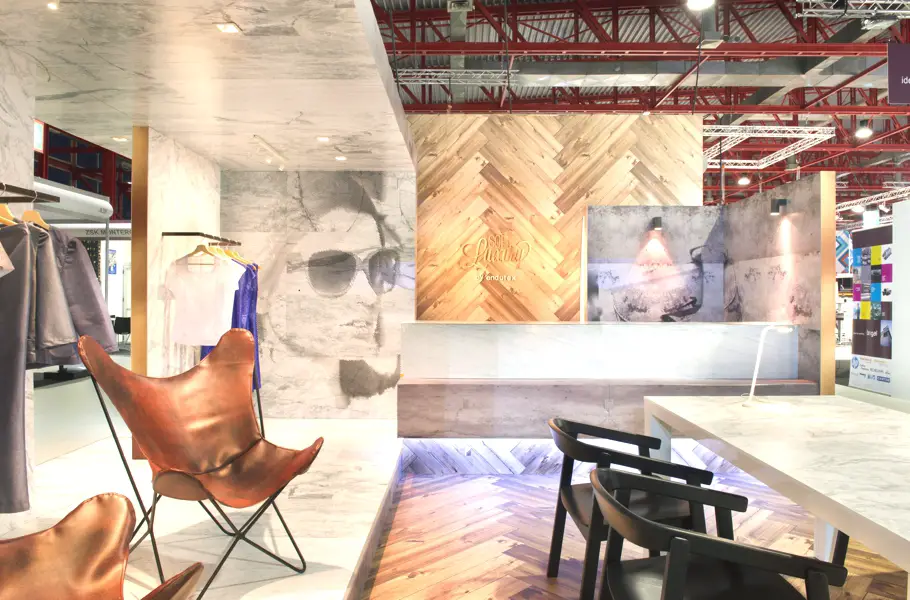 Barcelona-based interior design studio, Egue y Seta, has designed the Soft Luxury for Endutex at C!print project. Completed in 2014, the contemporary retail space was designed for Endutex at C!print in Madrid, Spain.
According to the designers: "Should we continue to invest in retail space renovation when these need to be updated each season? Do we need to sacrifice aesthetic appeal, comfort or luxury in order to achieve interior design schemes that make economic sense?
"This year's promotional space 'soft luxury by Endutex' comes up with the answer to these questions, and yes! Its the one we want to hear. Designed to showcase all the finishing, furnishing and communicative potential of Endutex's new and amplified catalogue, it has been conceived as a luxurious retail space, tailor made over printed media that will be light and soft to the eye but also to the pocket. Here all finishings and coverings are produced by Endutex, and have been printed by a number of collaborating printshops. With such decorative printing strategy egue y seta design studio has managed once again to benefit from the aesthetic appeal of traditional constructive materials such as concrete, marble, cooper and wood, avoiding their high costs, their complex installation requirements and their maintenance procedures. This type of interior design schemes which has been called graphic interior design, is no longer satisfied with the depiction of corporate logos, branding claims or product photography, but goes a lot further in the imitation of real textures, illusion of depth, and constructive features of non expensive and light materials so to achieve 'high end' retail atmosphere at a 'low cost' budget.
Images courtesy of Victor Hugo
Love Interior Design & Exotic Travel? Follow us..
December 14, 2014 | Property | View comments